When you're in need of a car, finding a great used car can be a smart decision. However, it's a decision you need to make carefully. Finding a used car depends on how hard you look, and we're here to help you get the most out of your used car buying experience.
In our guide to buying used cars, we'll carefully go over the necessary steps you need to take to find the right pre-owned vehicle. You'll learn a few tricks and pointers to help you make the best decision. 
Analyzing Your Budget
One of the most important factors to consider is your budget. You want a quality used car, but you don't want to pay brand-new prices. Once you've figured out your budget, the next step will be easier to take.
Browse a few used cars to get a sense of what you're looking for and what you're willing to spend.
Factor in your incidentals like rent/mortgage, utilities, and essentials, then see what's leftover that you wouldn't mind putting toward a car. 
Browse Used Cars in Your Area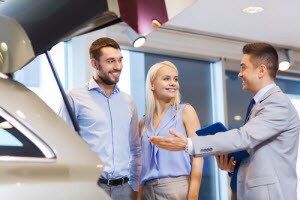 Luckily, the internet is a valuable tool you can use to help find a great pre-owned car in your area. The best outcome for your used car is by buying it through a dealership, not a private seller. Start your search today by using your computer to find your next car.
Browse the used car inventory of your local dealerships.
Utilize the search filters to cut down on your browsing time, so you can find exactly what you want in your next vehicle.
After you've created a list, research your potential cars by learning about what they offer and what they can do. 
Inspect the Vehicle Thoroughly
A vehicle is a major investment, so you want to be sure it's exactly what you want before you sign. It's always a smart idea to inspect the vehicle to make sure it's up to your standards. By giving the car a closer look, you'll be able to spot any warning signs.
Carefully inspect the exterior and look for any signs of wear like rust, dents, or scratches.
Get a good look at the interior; look for any tears or stains. Be aware of any weird odors coming from the vehicle.
If you have a mechanic friend, bring them along to check under the hood to make sure that everything is in the right place. 
Take the Test Drive
The deciding factor for your next car is the test drive. This is your chance to get behind the wheel. By taking the test drive, you'll be able to tell if it's the right vehicle for you.
Get a feel for how the vehicle handles on turns. Is the steering wheel responsive?
Test out the accelerator and brake pedals. Are they too touchy, or do they perform as expected?
Listen for any unusual engine sounds. A peculiar engine sound could indicate a mechanical issue. 
In our used car guide, you learned all about the different steps you should take when actively searching for a used car. By following these steps, you'll be able to make the best decision possible.
Would you like more information on our used car inventory? Stop in and see us at Richmond Ford Lincoln, the dealership that proudly serves drivers in the Richmond, Ashland, and Mechanicsville areas.