The Richmond Ford Lincoln location has been on Richmond's Broad Street for over 100 years. Through it's residency it has undergone many transformations evolving from the old fashioned car lot, captured in black and white below, into the modern dealership you see today. Now, it is preparing to undergo yet another transformation in the form of a renovation set to improve and expand the store's service lane and interior customer areas. The project is estimated to cost half a million dollars and should be completed by mid April of 2017.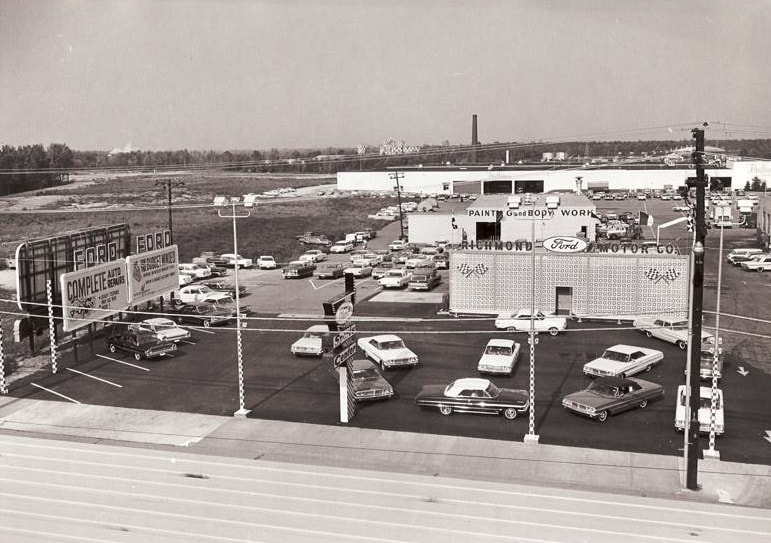 The largest portion of the renovation will be focused on what is currently the exterior service lane. When the project is complete the lane will be enclosed, climate controlled, and all one level (renderings of the finished product shown below). Customers would originally pull into the lane, experiencing whatever weather is present, and navigate over the curb into the interior service advisor desks. They will now pull into a climate controlled and enclosed lane that will be all one level with no curbs and pull up right next to the service advisor. This will provide a more streamlined, speedy, and pleasant experience for the ever growing volume of our service customers.
Moving to the interior renovations, an expanded Quick Lane greeting area and complete remodels of all three customer bathrooms is in the works. Expanding the Quick Lane greeting area should once again cut down on the time it takes for customers to be in and out when they visit for their vehicle service. While minimizing the wait customers experience is a huge goal of the renovations, making their time at the dealership more enjoyable is another focus.
The customer waiting area was recently outfitted with a phone charging station and better TV programming with no commercials. After the remodel is finished the store's three customer bathrooms will be brand new, complete with sink stations that wash and dry your hands, making wet hands due to no towels left a thing of the past. These sinks don't just have looks and functionality going for them, they're also green. What makes them green you ask? Well, they're greenguard certified which reduces exposure to chemicals and other pollutants. They also contribute towards water savings, and they ship "floor to door" which reduces carbon emissions.
When considering how the renovations would change the storefront itself owner, Ron Kody, commented:
Downtown Richmond, where our store is located, is experiencing some great expansion and improvements. We wanted to make sure our store renovation accomplished the goals we needed it to, while also keeping an attractive storefront. It's an exciting investment to be able to make for our customers.
Richmond Ford will also be renovating the Short Pump location, Richmond Ford West, this year. Say tuned for more renovation updates and news. Thanks for letting us be a part of your community!
Driven By You,
Richmond Ford Lincoln