We 
help drivers in the 
Richmond, Mechanicsville, Glen Allen, Ashland, and beyond
 keep their cars in tip top shape! We handle everything from routine check ups to engines that just aren't quite right. Our highly trained technicians at our 
service and repair center
 will get your vehicle up and running! We service all makes and models!
Aside from being trained specifically to work on Fords like the Escape, Mustang, Focus, Fusion, Edge, and F-150, out team only uses the 
brand-certified parts
. That's right: the very same parts you'd find on the assembly line where your Ford was made.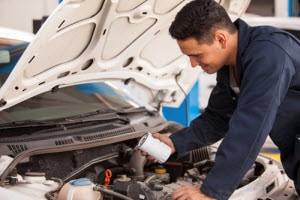 If you're interested in seeing what we can do for your car, fill out our convenient online contact form, give us a call, or come on over to make an appointment. We're conveniently located in downtown Richmond. Once you've been scheduled, we'll get you in and out before you can say 'I love Richmond Ford Lincoln!' Call us today at (804) 254-9233 to speak to a Ford service specialist.