When it comes to getting behind the wheel of your next car, you have two options: buying or leasing. While both of these avenues allow you the opportunity to have a car to help you get around Richmond, each are different. So, to help our friends, our team at Richmond Ford Lincoln is going to show you the differences in buying vs. leasing so you can easily figure out which options works best for you.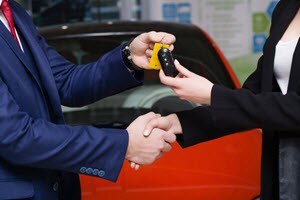 Benefits of Buying a Car
It's a great feeling being the proud owner of a vehicle. When it's your car, you can do whatever you want with it. You can repaint it, add some accessories, and even sell it when you're ready. But while it's fun owning a vehicle, there are some important details to know before buying a car.
Maintenance and service is covered by your warranty, but that only lasts for a few years. After the warranty expires, you're paying out of pocket for maintenance.
The vehicle depreciates in value each year, so when you go to trade in or resell, you can expect to get less than what you originally paid for the car.
Monthly payments are generally higher than lease payments.
Leasing Pros & Cons
When you're unsure of what you want to do with your automotive future, leasing can be a great option. You don't own the car, but you get to drive it around for a few years, depending on the term length of the lease. Maintenance is usually covered by a limited warranty, and depending on how you drive, that could last your whole term. But while there are a lot of benefits to leasing a car, there are some fine print aspects that you should be aware of.
Leasing a vehicle usually comes with a set amount of mileage you can put on the car. If you go over, you'll have to pay for each additional mile over, so you'll want to consider this if you have a lengthy commute.
While maintenance is covered during most of your lease, any damages to the interior or exterior will require you to pay for the repairs.
Your term length is set, and trying to get out of it could cost you. 
Making the Decision That's Right for You
When you're contemplating buying vs. leasing in Richmond, you need to consider your needs as a driver and what you can afford based on your budget. Both options are great in that they both provide you with a car. Whether you want to own the car, or simply drive it for a couple of years, the decision is yours to make. It's important to think about if buying or leasing a car is right for you.
If you have any more questions about buying or leasing a car, you can always contact us at Richmond Ford Lincoln. We're always happy to help drivers in Richmond figure out if buying or leasing is right for them.