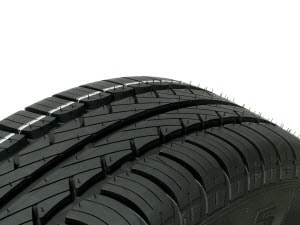 At Richmond Ford Lincoln, we're always happy to help our friends and neighbors in the Richmond, Ashland, and Mechanicsville areas through a number of different means. Whether you're in the market for a new Ford, you need automotive service or parts, or if you have questions, you can always rely on us to be there.
One of the most frustrating issues that drivers deal with is their tires failing. Tire replacements can be costly, so it's best to know when it's time for you to get new tires for your vehicle. One of the best ways is to perform a visual check on your tires to gauge how they're holding up, before they end up falling short on their job. 
Exterior Signs of Tire Failure
If you notice that your vehicle handling is weird, there are a variety of factors at play. When it comes to tires, if you look close enough, you'll notice some signs that your tires are wearing, and may need to be replaced. You should look for the following:
Bulges are important to look out for when performing an inspection of your tires. When your tire sidewall is bubbling out, it means that air is being released from inside the tire. Contact us as soon as you can, because if ignored, these bulges could lead to tire failure. 
If you notice cracks on your tire, you should begin to make arrangements to replace the tire. Cracks can occur over time, with heavy exposure to sunlight and heat. After a while, the cracks will dry out more and can result in failure. 
Be sure that the tires are even on the ground. If they bubble out at the bottom, your tires are low on air. If they're overinflated, there won't be a lot of road contact. 
Tread Failure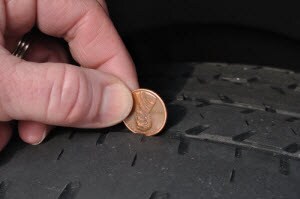 While checking the sidewalls are important to determine how worn your tires are, checking your tire's tread may be the most important item on the list. Your tread helps your vehicle maintain traction and grip the road. This is especially important during slippery road conditions, as the more tread your tire has, the more you'll be able to maneuver. When it comes to checking your tire tread, you should employ the penny test:
Take a normal penny and turn it upside down.
Place the penny in the tire tread. 
If you can see the top of Lincoln's head, your tread is low and you may want to consider getting your tire replaced in the near future.
Your Tires are Vibrating
If you're experiencing excessive vibration, your tires are most likely unbalanced, or need to be better aligned. Understanding where the vibration is coming from is important. Vibrations from underneath your seat is a common indicator for unbalanced tires. If you're experiencing excessive vibration coming from your steering wheel when driving, this indicates a suspension issue.
Both issues are significant signs of potential tire failure, and your vehicle should be taken into a dealership for maintenance and repair as soon as possible. 
Getting New Tires
By checking your tires, performing the penny test, and heading to the nearest service center for a checkup on your vibrating tires, you'll be able to tell if they need to be replaced. However, it's recommended that when you replace one tire, you replace them all. The reason is that your new tires will wear evenly without you having to get replacements one tire at a time. 
Do you have any questions about your tires? Feel free to stop by Richmond Ford Lincoln to say hi, or schedule your next service appointment. We're always happy to see our friends in the Richmond, Ashland, and Mechanicsville areas.
You May Also Like:
How to Check Your Tire Pressure