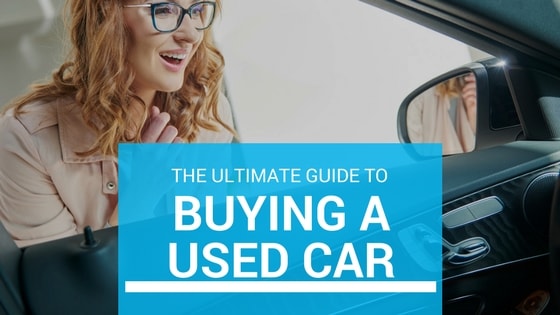 When you're shopping for a new-to-you car, finding a great used car can be a smart decision. However, it's a decision you need to make carefully. The process can be tricky so we're here to help you get the most out of your used car buying experience.
In our guide to buying used cars, we'll cover:
Analyzing your budget

Valuing your trade - getting a realistic number (valuing it online isn't enough)

Finding used cars

The different used car certification levels and what they mean

Inspecting the prospective vehicle

Purchasing
Analyzing Your Budget 
One of the most important factors to consider when purchasing a pre-owned vehicle is your budget. You want a quality used car, but you don't want to pay brand-new prices. When getting an idea of what your budget will be you should calculate what a reasonable monthly payment is. If you've got a vehicle you'd like to trade in, make sure you get a REAL value on it (we'll explain in more detail below). Once you've figured out your budget, the next step will be easier to take.
Browse a few used cars to get a sense of what you're looking for that will suit your needs and what you're willing to spend.

Factor in your incidentals like rent/mortgage, utilities, and essentials, then see what's leftover that you wouldn't mind putting toward a car. 

If you are looking to trade in your existing vehicle you can utilize tools like Kelly Blue Book to get a rough estimate of what your car is worth. However, if you want to a concrete number on how much you'll get for your vehicle it is best to bring it in to the dealership. At Richmond Ford Lincoln, we'll examine your car with you and utilize our online pricing tools to let you know what it's worth.
Browse Used Cars in Your Area and Narrow Down
Luckily, the internet is a valuable tool you can use to help find a great pre-owned car in your area. We advocate buying from a reputable used car dealership, not a private seller. Starting your search is as easy as typing "used car dealers near me" into Google.
Browse the used car inventory of your local reputable dealerships.

Utilize the search filters available to cut down on your browsing time.

After you've created a list of models that seem like good options research those models by utilizing vehicle review pages. This will allow you to see differences in trim levels and model years.
What do these Used Car Certification Levels Mean?
When you start your search you'll notice that many vehicles have different "certification levels". These indicate what warranties, history, and special offers will be available on that used vehicle. Often you'll see used vehicles labeled as "certified pre-owned" or other designations. Sometimes these can be confusing and often they differ dependent upon which dealership you are looking at. As a helpful guide here is what each designation means at our dealership: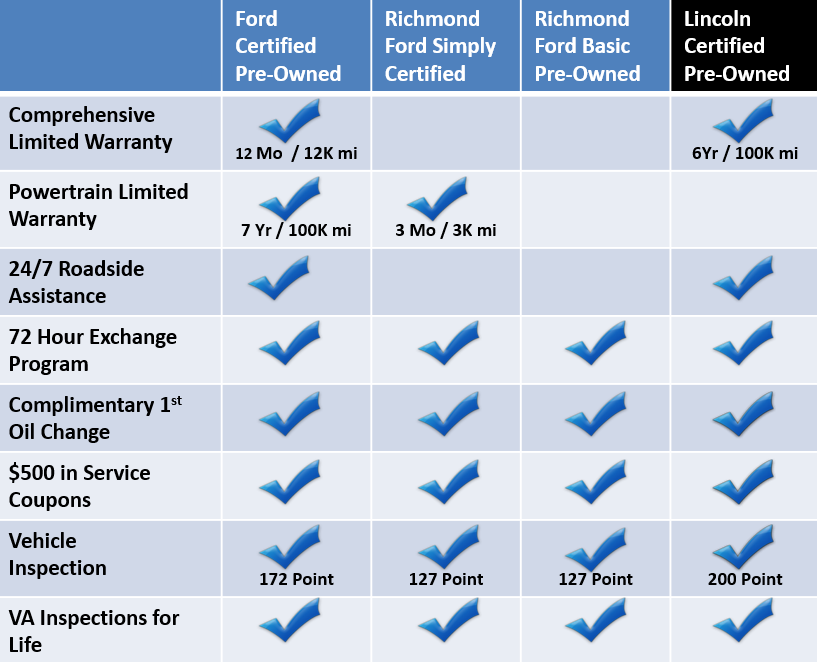 Ford Certified Pre-Owned:
Comprehensive limited warranty - 12 months or 12,000 miles

Limited powertrain warranty - 7 years or 100,000 miles

24/7 roadside assistance

72 hour exchange policy

Complimentary 1st oil change and $500 in service coupons

172 point vehicle inspection

VA Sate inspections for life
Richmond Ford Simply Certified:
Limited powertrain warranty - 3 months or 3,000 miles

72 hour exchange policy, 

complimentary 1st oil change and $500 in service coupons

127 point vehicle inspection

VA Sate inspections for life
Richmond Ford Basic Pre-Owned - This certification level covers ALL of our used inventory:
72 hour exchange policy, 

Complimentary 1st oil change and $500 in service coupons 

127 point vehicle inspection

VA Sate inspections for life
Lincoln Certified Pre-Owned - used Lincoln vehicles under this classification will receive: 
Comprehensive limited warranty - 6 years or 100,000 miles

24/7 roadside assistance, 

72 hour exchange policy, 

Complimentary 1st oil change, $500 in service coupons

200 point vehicle inspection, and 

VA Sate inspections for life.
When You Find "The One" or a Prospective Used Car
When you think you have found a vehicle online (or group of vehicles) you'd like to try you have two options:
Drop by the dealership - this is always an option at any dealership and you'll be welcomed, however it is not always as speedy.

Schedule an appointment - you can do this by giving the dealership a call or by submitting a lead online. A friendly business development representative will reach out to help you schedule your appointment. Be sure to mention:
What you are looking for, sometimes vehicles that are "in transit" (on the way to the dealership) may be unlisted online but available for you to try.

Which vehicles you saw online that you are interested in. This will allow your product specialist to have those vehicles gassed up and gather any necessary info about them.

How much time you'll have, that way they can let the product specialist know if they need to hurry things along on your test drive.

If you'll be bringing a trade-in. This is a great time to get your trade-in appraised and find out what that particular dealership is willing to pay for it.
Inspect the Vehicle Thoroughly
When you arrive at the dealership and are looking at prospective vehicles it's always a smart idea to inspect the vehicle to make sure it's up to your standards. By giving the car a closer look, you'll be able to spot any warning signs. Here are some areas our experts say you should look:
Exterior - inspect for any signs of wear like rust, dents, or scratches.

Interior - look for any tears or stains. 

Smells - be aware of any weird odors coming from the vehicle. You want to do this before and during your drive. If it's an interior smell like smoke dealerships can often help eliminate this. If it's another smell like anything burning make sure to raise a concern. It could be a simple fix like an oil change or something larger.

History - ask how much of the vehicle's history is available (this may vary based on certification level). Sometimes very little if anything is known about a used car. However, many used vehicles come with history reports.

Mileage - make sure the vehicle is at the right mileage for you and that it matches or is close to what was stated online (test drives can sometime add minimal mileage but beware of large discrepancies).

Windows, Doors, and Trunk - check all to make sure they are functioning.

Dashboard Lights - are any warning lights illuminated?

Tires - how much wear is on the current tires?
Each individual's preferences to the above will be different. For example, on a used vehicle you won't expect brand new tires or flawless seats, but you'll want to be aware of these things before purchase. 
Take the Test Drive
The deciding factor for your next car is the test drive. This is your chance to get behind the wheel. By taking the test drive, you'll be able to tell if it's the right vehicle for you.
Get a feel for how the vehicle handles on turns. Is the steering wheel responsive?

Test out the accelerator and brake pedals. Are they too touchy, barely there, or do they perform as expected?

Listen for any unusual engine sounds. A peculiar engine sound could indicate a mechanical issue. 

Play with any technology features and see if they are useful to you. 

Inquire about safety features, safety first!
Negotiating Price
Some people hate negotiating, others love it. When it comes to negotiating on your used car there are many helpful tools online (like KBB) and dealers will also help explain pricing. For example, one model may have an enhanced entertainment system and another may not. Mileage differences or recent maintenance like new tires may cause price differences.
Margins on new and used vehicles are no longer very large, so you may be surprised at the lack of wiggle room.
Don't be afraid to ask the dealer to fix minor issues or other things that you would pay for to get fixed down the road such as small dents or scratches. This is often a good way to save money in the future, increase the vehicle's value to you, and make sure the work is done by a reputable facility.

In our used car guide, you learned all about the different steps you should take when actively searching for a used car. By following these steps, you'll be able to make the best decision possible.
Would you like more information on our used car inventory? Stop in and see us at Richmond Ford Lincoln, the used car dealership that proudly serves drivers in the Richmond, Ashland, and Mechanicsville areas.