Every driver in the Richmond, Ashland, and Mechanicsville area knows that oil changes are the most common and simple form of automotive maintenance. However, there's a lot of debate as to when you should actually have your oil changed in your Ford. Depending on which model you have, how old it is, and your driving habits, you may be surprised by the answer.
When to Change Oil in Your Ford Vehicle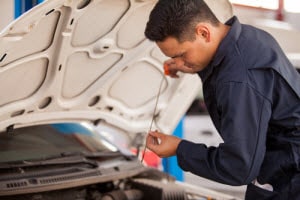 Ford Motor Company recommends that you change your oil every 7,500 miles if your Ford model is from 2008 or newer. If your vehicle is from 2007 or earlier, you should have your oil changed every 5,000 miles. These recommended changes are under normal driving conditions.
If you have less-than-typical driving habits, like excessive towing, extensive idling, or driving off-road, you should change your oil every 5,000 miles in your 2008 or newer model. If your vehicle is from 2007 or before, you're looking at an oil change every 3,000 miles.
Ford models 2011 and later have the Intelligent Oil-Life Monitor, which is part of your vehicle's instrument cluster. The monitor will display alerts like Oil Change Required or Engine Oil Change Soon. This system requires a reset every time you have your oil changed for it to accurately display your oil-life.
When to Change Synthetic and Conventional Oil
There are two types of oil that can go into your engine. Conventional oil is made from crude oil, and it's effective for vehicles that endure routine driving like commutes and errands. Although this oil is effective, it's highly susceptible to breaking down with extreme temperatures and should be changed every 3,000 to 5,000 miles.
Synthetic oil has been highly talked about considering it lasts much longer than conventional oil, and it can even help to provide longer engine life. Synthetic oil could be changed roughly every 15,000 miles.
These two oils both have their pros and cons. Conventional oil is less expensive than synthetic oil, but it breaks down quicker and requires more frequent changes. Synthetic oil can last much longer and require fewer changes. It's also used in most newer car models. Conventional, on the other hand, is highly recommended for older vehicles with higher mileage.