Engineered to last for the life of your vehicle, you'll find transmission work pretty close to the top of the complex-to-fix list. Luckily, Richmond Ford Lincoln's trained service experts are highly experienced transmission aficionados. 
When to Change Transmission Fluid
Signs That Your Ford Transmission Needs Attention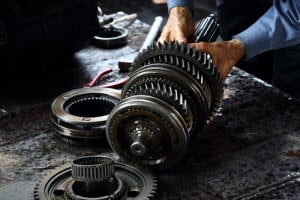 Half the battle when it comes to fixing your transmission is realizing that your transmission is having trouble before a larger issue steps in.
To help our local Ford owners in Richmond, Ashland, and Mechanicsville stay safe on the road and avoid costly repairs in the long run, we put together the following warning signs associated with a budding transmission issue:
      
Power Loss: Your Ford's transmission is responsible for applying engine power to the car's wheels. If dialing up to average acceleration requires "flooring it," a transmission problem may be to blame.
          
Audible Warnings: One of the most common symptoms of transmission trouble is strange noises during gear shifts. If you hear a clunk, squeal, or grind, it's time to bring your car in for an emergency transmission check. Hear something that's not coming from your gears? Check here.
          
Delayed Shifts or Gear Slips: If you're putting your car in drive and it's going in reverse or taking extra time to engage, you know you've got a transmission problem on your hands.
          
Burning Smell and/or Fluid Leak: Transmission fluid keeps the system's internal gears and parts cooled down and free of damage. If you smell burning and catch a dark brown leak under your car's parking spot, it's likely that your transmission system has a leak and could be at risk of overheating.