Were you aware that there are numerous benefits to following your Ford's maintenance schedule? By doing so, you can keep your vehicle performing at its best, increase its life span, and find out about any automotive issues that could be major problems if ignored.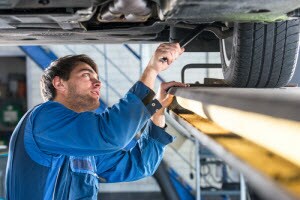 At Richmond Ford Lincoln, we want drivers like you in the Richmond, Ashland, and Mechanicsville area to enjoy driving your Ford for many years. To do that, you have to keep up with factory-recommended maintenance. We can help you with that, but for us to do that, you need to know your maintenance schedule. That's why we have this free library of Ford maintenance schedules for you to use.
All you have to do is check this page for your specific Ford model. When you locate it, click and learn about the various services, inspections, and replacements that your vehicle will need throughout its life span. These services include oil changes, tire rotations, brake system inspections, and spark plug replacements.
These maintenance schedules are broken down by mileage, and each mileage interval correlates with certain services. It's important to remember that you need to have those specific services repeated every time you add that mileage to your vehicle.
Luckily, these services will occasionally line up, so you can have many services performed in one simple visit. When you check your vehicle's maintenance schedule, you'll be prepared to keep up with the necessary maintenance to ensure that your vehicle lasts for the years and the miles.