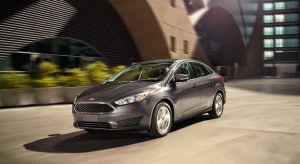 You may not be familiar with all of the symbols that could appear on your Ford Focus' dashboard. Luckily for Richmond, Ashland, and Mechanicsville area owners who have landed here, there's no need to panic. Richmond Ford Lincoln's helpful Ford Focus dashboard light guide is here to save the day!
Use this helpful, quick-read resource to track down the unfamiliar dashboard light that's newly aglow in your Focus and we'll tell you what you need to do next.


Warning Lamps to Focus On 
ABS Warning: If you see a circular symbol light up with the letters ABS inside, there's an issue with your Ford's anti-lock braking system. Your brakes should maintain usual performance but won't have the added safety protection of ABS, which helps you to maintain steering control under harder braking.
Brake System Warning: This may appear as the word BRAKE, an exclamation point inside a circle (!), or a P inside a circle (P). First, check to make sure that the car's parking brake isn't engaged. If the light remains lit or comes on while driving, have a certified Ford service center check the system immediately.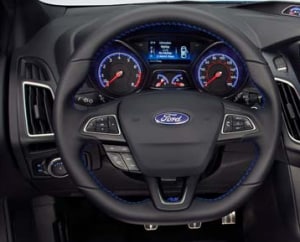 Battery Warning: A glowing battery-shaped box indicates a problem with the vehicle's battery or alternator. To lessen the strain, turn off any electrical accessories in use. Take your Focus for service as soon as you can.
Engine Oil Warning: This appears as a dripping oil can icon. The light may glow to indicate a dangerously low oil level or another internal issue. As soon as you can, get to a safe location to check the oil level. Then seek help from a certified dealer.
Fasten Safety Belt Warning: When you first start your car, you should see a glowing passenger with his seat belt fastened reminding you to do the same before you get moving.
Front Airbag Warning: This symbol looks like the side view of a passenger with a filled-in circle representing an airbag, indicating an issue with the front airbag. Take your vehicle for service to have the airbag system assessed and fixed.
Low Fuel Level: A tiny gas pump appearing on your dashboard indicates that your Ford Focus' fuel level is dwindling. Fuel up as soon as possible.
Low Tire Pressure Warning: An exclamation point inside a tire shape (!) points to low tire pressure in one or more tires. Be sure to manually check the pressure of each tire and refill to the manufacturer's recommended cold pressure level at your next destination.
Service Engine Warning: If you see a symbol that resembles the outline of an engine, take your car for service immediately. This light could indicate a serious issue with the emission control system that requires prompt assistance.
Ford Focus Indicator Lights
Door and Liftgate Ajar: You don't want to drive off with one of your doors open! This symbol appears as a bird's-eye view of a car outline with the doors ajar. If the back hatch isn't secured, you'll see another car outline with the liftgate raised.
High Beam and Front Fog Lamps: The high beam indicator will turn on when the high beams are on; it appears as a light-shaped symbol with straight beams. When the front fog lamps are on, a similar light with slanted beams and a wavy fog line running through them will glow.
Parking Lamps: When the parking lights are on, you'll see this set of small opposing green lights engaged.
Stability Control (on + off): When the Stability Control system is in use, you'll see a symbol that looks like a car driving away with wavy tread lines underneath. The same symbol will appear with the word OFF when the system has been manually shut off.

Safety Tech Dashboard Lights (if Equipped)
Adaptive Cruise Control: This will appear as a symbol set that depicts a stopwatch face and a car. This icon will glow in white when the system is on and change to green when it's engaged.
Blind Spot Monitor: If you see two filled-in rectangles catty-corner to one another with motion lines between them, look to the information messages system, which will prompt you for your next step. 
Lane Keeping Aid: When the lane Keeping System is on, you'll see a symbol that looks like an aerial view of a car stationed between two dotted lines.
Seeking Help for Ford Focus Dashboard Lights
We hope you found our Ford Focus dashboard light guide helpful. If you're driving around Richmond, Ashland, and Mechanicsville with a warning lamp lit, it's crucial that you bring in your Focus immediately to be inspected by an expert.
You can trust the professional technicians at Richmond Ford Lincoln to diagnose any internal issues that may be prompting your Ford to signal for help. We'll make the proper fixes and get you back on the road.
Don't jeopardize the safety of yourself and others by ignoring your dashboard! Sign up for an appointment with us today.
Make an Inquiry
Hours
Monday

7:00AM - 7:00PM

Tuesday

7:00AM - 7:00PM

Wednesday

7:00AM - 7:00PM

Thursday

7:00AM - 7:00PM

Friday

7:00AM - 7:00PM

Saturday

7:30AM - 5:00PM

Sunday

Closed