The Ford F-150 vs. Chevy Silverado is a tale almost as old as time. These two prolific pickup trucks have always been in competition with one another, given their extraordinary abilities and the fact that workers and drivers have been able to rely on them for decades. But when it's time to select the next truck that's going to lighten your load, which of these iconic vehicles do you choose?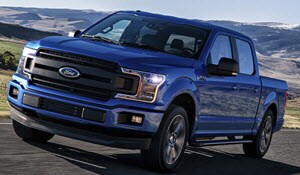 At Richmond Ford Lincoln, we've encountered plenty of friends in the Richmond, Mechanicsville, and Ashland areas who have been faced with the same 2018 Ford F-150 vs. 2018 Chevy Silverado 1500 comparison, and we were able to help them through it. Today, we're going to do the same thing for you. In this comparison, we'll look closely at each vehicle's engine performance, options, and abilities to show you how they differ, so you can easily determine which one seems like the best pick for you and your duties.
Ford F-150 vs Chevy Silverado Specs
The great thing about these pickups is that they each offer a wide array of engine options to help drivers looking for a specific type of performance. The 2018 Ford F-150 comes standard with the 3.3L V6 which has the ability to reach 290 horsepower. On the other hand, the 2018 Chevy Silverado and its base level 4.3L EcoTec4 V6 can only deliver 285 horsepower. While 5 horsepower isn't a glaring chasm, the other engine options may prove that the differences between these trucks can be pretty significant.
The Ford F-150 and its 5.0L V8 delivers 395 horsepower and 400 lb-ft of torque while the Chevy Silverado and its 5.3L EcoTec3 V8 tops its output with 355 horsepower and 383 lb-ft of torque.
The 3.5-liter EcoBoost® V6, featured in the 2018 F-150, delivers more torque with 470 lb-ft than the 460 lb-ft of torque that the 6.2L EcoTec3 V8 2018 Silverado can produce.
The F-150 offers four total engine options while the Silverado only offers three.
Ford F-150 vs Chevrolet Silverado Towing Capacity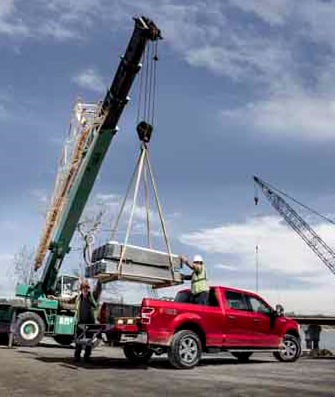 One of the most alluring aspects of the pickup truck is its abilities to carry a significant amount of weight, as well as providing enough torque to be able to trailer some larger machinery and materials. Each truck provides some remarkable abilities, however, that all depends on the engine that you chose, because they each come with wildly different capabilities.
The base level Ford F-150 engine can tow 7,700 lbs while the Silverado and its base level engine max out at 6,100 lbs. The 2018 Ford F-150 base level engine can actually out tow the first two engine options offered by the Chevy Silverado.
The 2018 F-150 3.5L EcoBoost® V6 can tow 12,100 while the 2018 Silverado and its 6.2L EcoTec3 V8 tops off at 11,800 lbs.
When the same engines are equipped, the Ford F-150 can carry 2,350 lbs of payload and the Chevy Silverado can carry 1,780 lbs of payload.
2018 Ford F-150 vs 2018 Chevy Silverado
You learned a lot about these two powerful pickups in our Ford F-150 vs. Chevrolet Silverado comparison. You got to see what each truck offers, and what the trucks can do when you put them to work. However, the most important thing you learned is that the F-150 has stronger capabilities and more options that the Silverado. See the 2018 Ford F-150 in all its glory when you browse our online inventory and even take it out for a spin so you can really decide if it's the truck for you.
Richmond Ford Lincoln is proud to help friends and neighbors in the Richmond, Mechanicsville, and Ashland areas learn more about the trucks they're considering. Learn even more by scheduling your test drive with us today!