When the time comes for you to choose the right pickup truck, you know that the 2018 Ford F-150 is one of the best options available, given its long history and track record. While this truck has been the gold standard for many years, truck drivers get curious of other pickups on the market to see how they measure up. In this instance, we're going to compare the Ford F-150 vs. GMC Sierra 1500 to highlight the similarities while making the differences more apparent.
At Richmond Ford Lincoln, we've helped many of our friends in the Richmond, Mechanicsville, and Ashland areas make the right choices when they're in the market for a new truck, especially since this helps them with their immense workload. In our 2018 Ford F-150 vs. 2018 GMC Sierra 1500 comparison, we're going to focus on the major factors that drivers want to know. By learning about how these two trucks differ with their engine options and power, and their respective towing and payload abilities, you'll be able to see the clear choice.
Ford F-150 vs GMC Sierra 1500 Engine Options & Power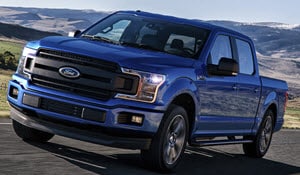 Both of these trucks owe their significant abilities to their respective engines. Still, their performances vary, given that each of these pickup trucks comes with an array of engine options that allows the driver to tailor the performance to his or her liking. However, the 2018 Ford F-150 actually offers one more engine option than the 2018 GMC Sierra 1500.
The F-150 and its 5.0L V8 can deliver 395 horsepower and 400 lb-ft of torque.
The Sierra 1500 and its similar 5.3L EcoTec3 V8 can produce 355 horsepower and 383 lb-ft of torque.
The Ford F-150 leads in torque with the 470 lb-ft generated from the 3.5L EcoBoost® V6.
The GMC Sierra 1500 comes close with 460 lb-ft of torque, thanks to its 6.2L EcoTec3 V8.
Want to learn more about the new Ford F-150? Check out our interior review in this article.
Ford F-150 vs GMC Sierra Towing Capacity
Each of these trucks bring a lot to the table in terms of performance and abilities. Part of their appeal is that they're capable of remarkable feats that give laborers the ease and stability of getting some significant tasks done, thanks to their pickup. While each vehicle offers an impressive assortment of abilities, their towing and payload capacities differ greatly when it comes to navigating their varying engine options.
At the base level, the 2018 F-150 can tow 7,700 pounds vs. the 5,500 pounds that the 2018 Sierra 1500 can trailer with its base engine.
The top towing abilities goes to the Ford F-150 with its 3.5L EcoBoost® V6, which can drag 12,100 pounds, while the GMC Sierra 1500 tops at 11,800 pounds with its 6.2L EcoTec3 V6.
When properly equipped, the F-150 can carry 2,350 pounds of payload, which is more than the GMC Sierra 1500, which maxes out at 2,110 pounds when equipped with a payload package.
Learning More About the 2018 Ford F-150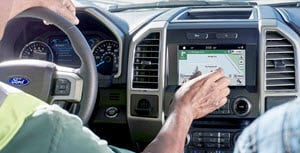 At Richmond Ford Lincoln, we hope that you learned a lot from this Ford F-150 vs. GMC Sierra comparison. You got a strong sense of what each pickup truck offers, and what each vehicle is capable of when put to the test. By now, you're aware that the 2018 Ford F-150 actually outperforms the 2018 GMC Sierra 1500 in a few categories. You can get a better sense of the Ford truck by browsing our online inventory, and maybe even get behind the wheel to give it a spin.
Take your 2018 Ford F-150 test drive at Richmond Ford Lincoln. We're happy to give our friends and neighbors throughout the Richmond, Mechanicsville, and Ashland areas the right experience when it comes to choosing the truck that's right for them. Contact our team today!