Are you looking for the right sporty vehicle to show off as you're making your way around town? At Richmond Ford Lincoln, we've had our drivers ask us about the Ford Mustang, but more specifically, they want to know how it compares to the equally popular Dodge Challenger. To help settle this debate for our friends in the Richmond, Mechanicsville, and Ashland area, we're going to throw these performance cars into the ring to see which one comes out on top.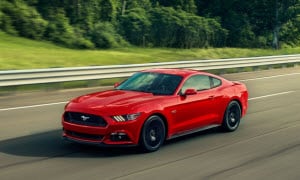 In our 2017 Ford Mustang vs 2017 Dodge Challenger comparison, we'll make sure to include what sports drivers want. We'll look under the hood and check out the engine performance and power options as well as taking a look at the vehicle style and appearance. By comparing these two impressive sports cars, you'll be able to figure out which one revs your engine more.
2017 Ford Mustang vs 2017 Dodge Challenger: Engine Performance & Power Options
When it comes to these types of cars, the engine performance is one of the most important components you need to consider. Each vehicle offers numerous engine options to allow the driver to select their preferred amount of output. However, there's a clear leader in power when it comes to these two vehicles.
The Ford Mustang opens with a 3.7L V6 engine and the Dodge Challenger comes with a 3.6L V6.
Both base level engines can hit 300 horsepower, but the Ford Mustang leads in torque with 280 lb-ft vs. 268 lb-ft.
The next level up is the 5.0L V8 in the Ford Mustang and the 5.7L V8 in the Dodge Challenger.
The Ford Mustang has the clear advantage with a 435-horsepower output compared to the 375 horsepower that the Dodge Challenger is capable of delivering with its V8.
Vehicle Style & Appearance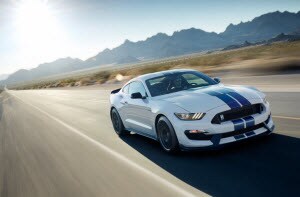 Appearance is almost as important as power when it comes to choosing a sporty car. Each of these vehicles offers a distinctive style. Of course, you can easily tell these two vehicles apart as they both appear wildly different in their respective styles.
The Ford Mustang offers a sleeker style with smoother curves, a more aggressive front end and grille, as well as more performance-based dual exhaust tips that give the vehicle an edge.
The Dodge Challenger has a boxier frame that doesn't offer any smooth transitions from hood to cabin. Its frame doesn't let on that this vehicle is agile.
While both vehicles offer a stylish and performance-based aesthetic, the Ford Mustang seems like a better fit for the type of power it can produce.
Seeing the 2017 Ford Mustang Up Close
Was this Ford Mustang vs. Dodge Challenger comparison helpful in showing you how these competing sports cars differ? You learned that while both vehicles offer a lot, it's the 2017 Ford Mustang that holds the cards. Instead of reading about the 2017 Ford Mustang, why not come by, say hi, and experience the Ford Mustang for yourself? We'd be happy to get you behind the wheel.
Schedule a test drive at Richmond Ford Lincoln. We're always happy to give our friends in the Richmond, Mechanicsville, and Ashland area the right experience when they're considering their next car.