Comparing the 2018 Ford Mustang against the 2018 Dodge Charger is a duel that makes sense. Considering both vehicles offer iconic performances, when it's time to choose your next muscle car, you may have trouble when it comes to the final decision. At Richmond Ford Lincoln, we're going to take a closer look at these models to give our friends in Richmond, Mechanicsville, and Ashland a bit more insight into learning what these vehicles can do and what they offer, so you can figure out which one is the right choice for you!
Keep reading this Ford Mustang vs. Dodge Charger comparison to see which vehicle has more muscle, style, and features!
Ford Mustang vs Dodge Charger: Engine Options & Performance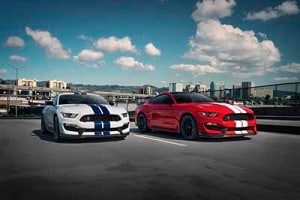 Even though these vehicles thrive within the same class, their entry level engines couldn't be more different. The Mustang starts with a 2.3-liter EcoBoost® 4-cylinder engine which delivers 310 horsepower and 350 lb-ft of torque, while the Charger offers a base-level 3.6-liter V6, which falls short at 300 horsepower and 264 lb-ft of torque. Each vehicle offers a slew of engine options to boost the respective performances.
The 5.0-liter V6 in the Mustang delivers 460 horsepower and 420 lb-ft of torque.
The Dodge Charger offers a 5.7-liter V8 that maxes out at 370 horsepower and 395 lb-ft of torque.
The Ford Mustang Shelby includes the 5.2-liter Flat Plane Crank V8 that produces 526 horsepower, while the 892 HEMI® V8 delivers 485 horsepower to the Charger.
Ford Mustang vs Dodge Charger: Interior
Each performance car includes a spacious and stylish cabin for their respective racers. Both vehicles come outfitted with cloth bucket seats, but drivers can choose higher end materials like leather on other trim levels. Some of the respective special edition trims include signature badging and trim to highlight the vehicle's performance.
As for the interior features, each vehicle brings something special to the cabin:
Dashboard-mounted display screens and 6-speaker sound systems in both vehicles.
The Ford Mustang includes voice recognition technology.
Each vehicle includes a radio, USB/auxiliary input, Bluetooth® connectivity for phone and streaming capabilities.
Muscle Car Style & Appearance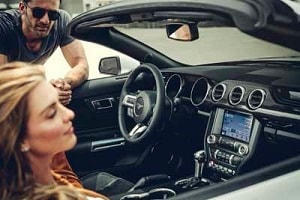 The aesthetic distinction is clear with the Mustang vs. Charger. The Mustang offers a smoother and more refined look with its body style. The Charger has a more box-like appearance, which is particularly noticeable with its squared off front and rear. Both performance vehicles offer a selection of vibrant colors that really make the cars stand out on the road, however, the Mustang also offers a convertible version for the more adventurous driver.
Choosing Between the 2018 Ford Mustang vs 2018 Dodge Charger
Now that you've read this Ford Mustang vs. Dodge Charger comparison, you're now aware of the many differences between these two performance vehicles. You're even aware of the Mustang and its dominating lead over the Charger with its style, features, and performance. Next, you'll want to drop by Richmond Ford Lincoln for a closer look at the 2018 Ford Mustang.
Take your research further by scheduling a test drive with the Ford Mustang at Richmond Ford Lincoln, so you can see what it can do on the road! We're proud to help our friends in Richmond, Mechanicsville, and Ashland when they're torn between two iconic cars. Contact our team today!