When our friends from the Richmond, Ashland, and Mechanicsville area come in to see us at Richmond Ford Lincoln looking for a reliable and spacious vehicle capable of impressive feats, we often suggest the 2017 Ford Focus ST. This stylish hatchback delivers more than just ample space, but we'll gladly give you more details about this vehicle. We hope this Ford Focus ST review will help.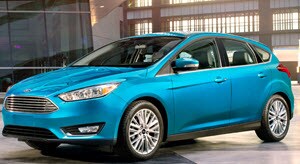 In our closer look at this hatchback, we'll be focusing on the power and performance, vehicle style and design, and the featured amenities. You'll learn what this vehicle offers, and what it can do. You'll know if you need to start looking for a Ford Focus ST for sale.
Ford Focus ST Power & Performance
While the average hatchback isn't necessarily know of its performance, the Ford Focus ST certainly goes against type by delivering a great deal of power. It even features various systems to not only boost efficiency, but also to provide more control to the driver.
The equipped 2.0L EcoBoost® four-cylinder engine delivers 252 horsepower and 270 lb-ft of torque.
The Ford Focus ST features Gasoline Direct Injection, which reduces fuel waste by pumping gas directly into the combustion chamber, resulting in the vehicle's EPA estimated 22/30 mpg city/highway.
Torque Vectoring Control uses the braking system to adjust the speed between the front wheels to provide better control during cornering.
Vehicle Style & Design
What separates the Ford Focus ST from the other trims, besides its upgraded performance, is its overall appearance. This hatchback is equipped with several add-ons and implementations to give the Ford Focus ST a more aggressive appeal. Some of these design factors also help improve performance.
The Ford Focus ST features active grille shutters, which automatically opens and closes to help limit drag while boosting efficiency and performance.
This hatchback features an ST center exhaust with dual bright tips as a visual representation of the vehicle's abilities.
The vehicle features both a chin spoiler and a high-mounted unique ST rear spoiler to cement the vehicle's commanding aesthetic.

Featured Amenities
While the Ford Focus ST comes packed with performance and style, it also has a variety of fun amenities to add more enjoyment to the ride. These features blend both convenience and entertainment. The Ford Focus ST also offers optional technology that you may want to consider.
The SYNC® system features voice recognition, allowing you to select your media to play through the vehicle's six-speaker sound system.
The speakers feature speed-sensitive volume control, which adjusts the audio levels to compensate for the loud engine performance. 
You have the option of includes the SNYC®3, 10 Sony® Branded speakers, Voice-Activated Navigation, and both HD Radio™ and SiriusXM®-offered as a six-month trial.
Getting Acquainted with the 2017 Ford Focus ST
Now you've read our Ford Focus ST review, you're well aware of why it has become increasingly popular. However, if you're looking for a Ford Focus ST, or you want to take it for a test drive, you can always swing by Richmond Ford Lincoln. We're always happy to help our friends in the Richmond, Ashland, and Mechanicsville area find the vehicle that's right for them.