Finding a reliable sedan isn't what it used to be. While you've been scouring dealerships around the Richmond, Ashland, and Mechanicsville area, have you taken notice of the Ford Fiesta? This vehicle has proven its worth among heady competition, but is it the right vehicle for you?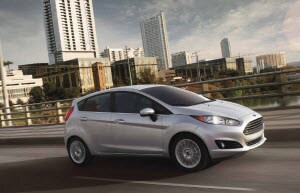 If you're not sure yet, that's fine-we'll help you figure that out by giving you a closer look. In this review of the 2017 Ford Fiesta, we'll focus on the sedan's engine, efficiency, entertainment, technology, and safety features. Reading this review will help you determine if the Ford Fiesta is indeed the vehicle for you.
2017 Ford Fiesta Engine & Efficiency
While most sedans go lighter on power and lean more on fuel efficiency, the Ford Fiesta makes itself known with its 1.6L four-cylinder engine. The 2017 Fiesta comes standard with a five-speed manual transmission, allowing you to feel the road as you shift between gears. However, a six-speed automatic transmission is also available.
The 1.6L four-cylinder engine can deliver 120 horsepower with 112 lb-ft of torque.
The Ford Fiesta shows its efficiency with its EPA estimated 27/35, allowing you to get from A to B without costing a fortune on gas.
The unique Torque Vectoring Control, featured with the Ford Fiesta, varies the amount of brake pressure added between front and rear wheels to provide you with superior control, especially around tight corners. 
Entertainment & Technology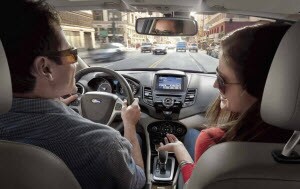 Now looking at the interior-more specifically, the amenities-the Ford Fiesta delivers a solid deal of fun and exciting features to make your daily commutes more enjoyable. Drivers who love being entertained while being able to access their media conveniently will adore the SYNC system. This system paves the way for sophisticated convenience technology.
The SYNC with SYNC Applink integrates your smartphone with the vehicle's infotainment system, allowing you to access your apps through voice commands and steering wheel-mounted controls.
The Ford Fiesta offers a variety of media options, including an AM/FM radio and a CD player that can read MP3 format discs.
The Bluetooth® system allows for both hands-free phone calls as well as smartphone audio streaming.
Fiesta Safety Features
One of the most important factors to look for when choosing your next sedan is the vehicle's safety features. It will help you determine the amount of protection that's offered with the vehicle. The Ford Fiesta comes standard with a variety of systems designed to help keep you and your passengers safe and secure.
The AdvanceTRAC stability control system helps keep the vehicle on track during slippery conditions.
The seven-airbag system provides ample protection for both front and rear passengers.
The SOS Post-Crash Alert System activates after an accident and it unlocks all of the doors while turning on the hazards to help flag down emergency responders. 

Learning More About the 2017 Ford Fiesta
This article showed you a lot about the Ford Fiesta. You learned a great deal about its abilities, features, and safety systems. However, one of the best ways to learn more about the 2017 Ford Fiesta is by taking it out for a spin.
Take a spin in the 2017 Ford Fiesta by scheduling a test drive with your team at Richmond Ford Lincoln, just a short drive away from the Richmond, Ashland, and Mechanicsville area.
[Want to learn more about Ford sedans? Check out our review of the 2017 Ford Focus in this article.]