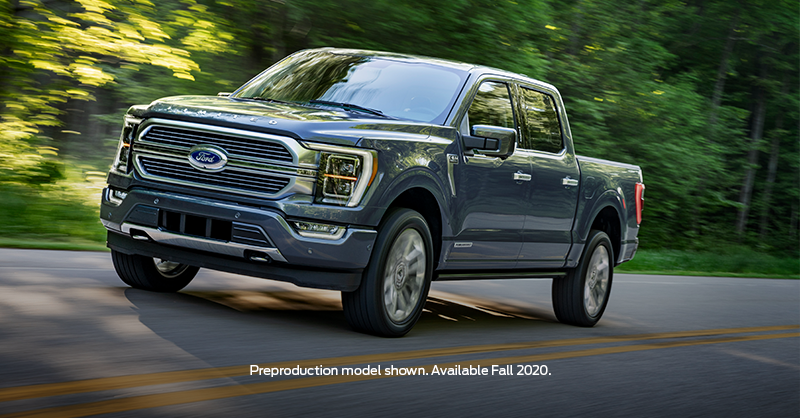 The
all-new 2021 F-150
has been redesigned from the ground up to be the toughest, most productive F-150 ever and targeted to be the most powerful truck in its class. Here are some of the major changes and upgrades you can expect in this newest iteration of this classic truck.
  
 The Design
The 2021 F-150 has been redesigned with a look that is aerodynamically designed but with that traditional tough look that is unmistakably F-150. It includes 11 new grills across the line-up with new C-clamp style LED lights.
 The Power
This truck is targeted to have the best all-around capability of trucks in its class. With that comes best-in-class towing, payload, torque and horsepower with six available engines including the F-150's first option for a hybrid V6 engine.
  
  
 The Technology
This F-150 has the brains to meet the brawn. Its interior features a 12" screen, the largest in trucks of its class that can also recognize your touch even with work gloves on. This truck provides quick over-the-air updates and Wi-Fi access along with safety features including the pro-trailer backup assist.
 The Workspace
New to the F-150 is the additional workspace features that allow you to continue your job while out-and-about. An interior work surface is made for your "road office" needs for laptop use. Under the seats, you'll find additional storage to free up your truck bed. The tailgate doubles as a work surface when extended. Finally, the seats can be reclined fully to allow you to rest on those long days.