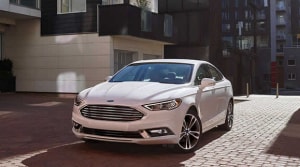 The head-turning 2017 Ford Fusion performs as boldly and energetically as its looks. If you're the proud new owner of a 2017 Ford Fusion, the best way to protect your investment and ensure that your sedan continues running like new for longer is to follow its recommended maintenance schedule set by Ford.
Richmond Ford Lincoln has simplified access to the maintenance info that Richmond, Ashland, and Mechanicsville Fusion owners need. Here you'll find Ford's maintenance recommendations in an easy-to-read digital format that you can call up at any time.
Your Ford Fusion's Maintenance Interval and Ford's Intelligent Oil Life Monitor™
Every Fusion's maintenance schedule is a little different. That's because Ford has equipped the Fusion with an Intelligent Oil Life Monitor that keeps track of mileage and a variety of factors to determine when your vehicle needs maintenance.
When your 2017 Fusion is due for an oil change, you'll see a message appear in the driver information display between the speedometer and tachometer.
If you primarily use your vehicle in normal driving conditions without towing or loading it down with heavy equipment, you can expect to see a message light up to change the oil every 7,500 to 10,000 miles.
If you drive 10,000 miles without seeing the indicator's message, take your Fusion to a trusted Ford service center to have the oil changed and associated maintenance items performed.
Routine Services Required at Each Oil Change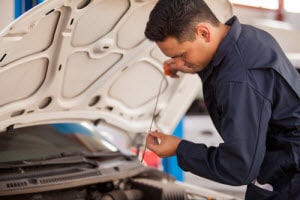 Ford structures its required maintenance around your oil change visit. Each time you take your Fusion to get the oil and filter changed, it will also require several other services that will repeat alongside your oil change interval. These include:   
   
Tire rotation
          
Multi-point inspection
          
Brake elements inspection
          
Automatic transmission fluid check
          
Tire wear and tread depth check
          
Engine cooling and exhaust system inspection
          
Suspension system elements check
          
Half-shaft boots inspection
Future Fusion Maintenance Items
As you add mileage to your Fusion and complete your second and third oil change/maintenance visits, parts that don't need to be changed as frequently will need to be inspected and/or replaced. Here's what Ford recommends:   
   
Every 20,000 Miles: Replace the cabin air filter.
          
Every 30,000 Miles: Replace the engine air filter.
      
At 6 Years or 100,000 Miles: Change the engine coolant. After the first replacement, replace every three years or 50,000 miles driven.
          
Every 100,000 Miles: Replace the spark plugs and inspect the accessory drive belts. Once the belts are inspected once, proceed inspecting at every other oil change.
          
Every 150,000 Miles: Change the automatic transmission fluid and replace the accessory drive belts if they weren't changed within the last 100,000 miles. If you drive a 1.5L engine Fusion, the timing belt will need to be replaced at this time. 

Contact Richmond Ford for Help with Maintenance for Your Fusion
For quality Ford inspections, replacements, and repairs, Richmond, Ashland, and Mechanicsville area Fusion owners can count on the Richmond Ford Lincoln service center. Our service department is staffed by factory-trained, expert Ford technicians who use genuine Ford parts for every service performed.
Whether you're stopping by for routine maintenance at our Ford Quick Lane® Tire & Auto Center or coming in for an unknown issue, we'll take care of you.
To schedule your service appointment with the dedicated technicians at Richmond Ford Lincoln, call 804-254-9233 or reserve a time that's convenient for you using our online service scheduler. 
Hours
Monday

7:00AM - 7:00PM

Tuesday

7:00AM - 7:00PM

Wednesday

7:00AM - 7:00PM

Thursday

7:00AM - 7:00PM

Friday

7:00AM - 7:00PM

Saturday

7:30AM - 5:00PM

Sunday

Closed
Make an Inquiry