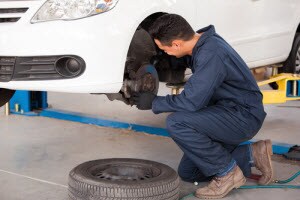 Have you ever noticed when driving around the Richmond, Ashland, and Mechanicsville area that your brakes seem a little squishy? Your brakes feel this way because there's air in your brake lines. The best way to fix this problem is to bleed your brakes to remove the air so they can function normally.
In this article, we'll provide a step-by-step process of how to bleed your brakes. You'll need a bleeder wrench, a small flexible hose, a jar, and a friend to help you.
Step 1: Locate the Bleeder Screw
To begin the process of bleeding your brakes, find the bleeder screw, which looks like a nozzle and is located behind your brake. Be careful when removing this screw because it's delicate and would need a professional replacement if damaged. If it won't budge, use some WD-40 to loosen it.
Step 2: Connect the Bleeder Hose
Attach your small rubber hose to the open bleeder nozzle. Place the other end of the hose in a jar or container that can be sealed. Make sure that the brake fluid doesn't leak out because it has toxic chemicals.
Step 3: Have Your Friend Pump the Brakes While You Drain the Fluid
While you're ensuring that the hose is fastened to the rubber hose, your friend should be in the driver's seat, waiting for your command to pump the brakes.
Before you open the bleeder nozzle, have your friend press down on the brakes a couple times. After you've opened the screw, have your friend hold the brakes down. You'll see the fluid come out, but more importantly, you'll see air bubbles. Be sure to tighten the screw before your friend releases the brake pedal. This is to ensure that the air doesn't get sucked back in.
Repeat this process until there's no more air bubbles. You should perform this process on every brake before moving forward to the next step.
Step 4: Refill Your Brake Fluid
When you've removed the air from your brake lines, top off your brake fluid to compensate for the amount you've just drained. Open the master cylinder and pour in brake fluid until it reaches the full line.
If you don't do this, you'll have to repeat steps 1 through 3 because air will get back into your hoses due to the lack of brake fluid in the master cylinder. 
Step 5: Take the Vehicle for a Spin
After you've bled the brakes, the best way to ensure that you've performed the job correctly is by taking your vehicle on the road. Keep it local; don't drive long distances. Pay close attention when you're braking. If you notice that your brakes are responsive and no longer squishy, you've bled your brakes successfully.
Help from Professionals at Richmond Ford Lincoln
If you don't think that you can perform this service on your own, you can always schedule an appointment with us at Richmond Ford Lincoln. We're happy to help drivers in the Richmond, Ashland, and Mechanicsville area to keep their vehicles in great shape and ready for the open road.
Read more on brake services here.