All our friends in the Richmond, Ashland, and Mechanicsville areas know that their oil needs to be changed sporadically, and at Richmond Ford Lincoln, we're more than happy to help.
In this guide, we'll go over synthetic oil, including what it does and its many benefits. We hope that this guide helps you learn why this type of oil is a great choice for your vehicle. Read all about it below, and don't hesitate to contact us if you have any questions.
Why Our Cars Need Oil

Oil works in many ways to protect our cars. Due to the several moving metal parts in our engines, they tend to grind up against each other. Oil acts as a lubricant so these parts can move fluidly. Also, oil helps reduce friction by keeping these parts cool so that your engine can function smoothly without the risk of overheating.
Oil even helps clean the metal parts, hence why it needs to be changed so often; it collects the crud and debris over time and becomes less effective at lubricating the parts and keeping them cool.
All About Synthetic Oil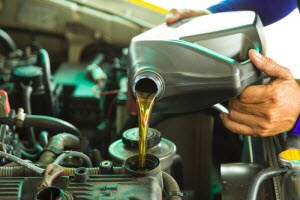 When synthetic oil first came onto the scene, it impressed drivers due to its long lifespan. While it may seem more expensive on the surface, you actually save money in the long run.
With synthetic oil, you won't need to get frequent oil changes. In fact, synthetic oil lasts for 8,000 to 10,000 miles before it needs to be changed.
Plus, since synthetic oil is made from chemically modified petroleum components, it can break down a lot easier, making it less harmful for the environment.
Of course, there are other benefits to using synthetic oil, such as:
Being better in extreme temperatures without losing viscosity performance.
Providing better lubrication, especially in the winter time.
Synthetic oil is also great at protecting critical turbocharger parts. Many vehicles nowadays are made with small engines for greater fuel efficiency, but also get turbochargers added to them to boost power. Engines already run at very high temperatures, but turbocharged engines are even more aggressive. In fact, the shaft inside a turbocharger can spin upwards of up to 200,000 RPM (revolutions per minute).
Due to this, it's crucial that the oil lubricates the engine properly and efficiently. Fortunately, synthetic oil can do this well. Since it won't break down too quickly, it helps the engine consistently operate at peak performance.
Take Advantage of Synthetic Oil
Now that you know the benefits of synthetic oil, you'll be happy with the results when you get your next oil change. Of course, you can always count on your service team at Richmond Ford Lincoln for a Motorcraft® synthetic oil change for your Ford vehicle at any time. The major benefit is that you won't have to have your oil changed as frequently.
Schedule your next oil change with us at Richmond Ford Lincoln. We're always happy to help our friends in the Richmond, Ashland, and Mechanicsville areas with this important routine service.