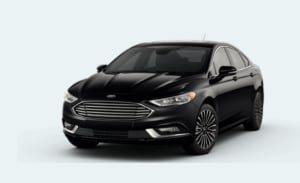 When it comes to taking care of your Ford Fusion, the best thing you can do is stay on top of your vehicle's recommended maintenance and service schedule. But even the most vigilant car owner may at some point come across the dreaded dashboard light. What does it mean? What should you do now? 
Thankfully, the team at your local service center near Richmond, Ashland, and Mechanicsville has the answer in this Ford Fusion dashboard light guide. Check it out now below and then, if necessary, schedule a service appointment with the professional team at Richmond Ford Lincoln.


Battery and Charging System
Several lights that have to do with the battery and charging system could illuminate in your Ford Fusion:      
Check Charging System: This light indicates that it's time to get your Ford Fusion's charging system serviced as soon as possible.
          
Low Battery Features Temporarily Turned Off: This light indicates that your battery management system has detected a low-voltage battery condition and has turned off accessory features to reserve battery power. Don't turn off the vehicle and take it directly to your local service center to get it checked out.
          
Turn Power Off to Save Battery: This light indicates that your vehicle battery is at a low state of charge. To protect the battery, turn the vehicle off as soon as possible. When the vehicle has recovered, the light will go off and it's safe to restart the vehicle.
Fuel Lights
Two lights associated with the fuel level and tank could illuminate in the 2017 Fusion: 
Fuel Level Low: This light indicates that your fuel level is low and you'll want to refuel as soon as possible.
          
Check Fuel Fill Inlet: This light indicates that your fuel inlet may not have closed properly. To avoid the loss of fuel and environmental degradation, check the fuel cap.
Intelligent Oil Life Monitor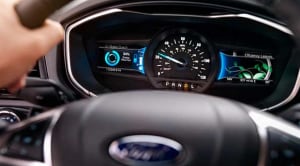 This system is included in new Ford vehicles and is a way for you to know exactly when your vehicle needs an oil change. This system takes into account all of the factors that determine the severity of your driving as well as monitors the health and functionality of the oil in your vehicle.

Schedule a Ford Fusion Service Appointment
Are you ready to take your Fusion to your local Ford service center near Mechanicsville, Ashland, and Richmond for its regular service and maintenance appointment? Richmond Ford Lincoln is conveniently located at 4600 West Broad Street in Richmond, VA. Our team of professionally trained service technicians will be happy to keep your Ford Fusion running smoothly.
We're available for regular service and maintenance appointments. Give us a call today at 804-474-0572 or visit our service center online now to schedule a Ford Fusion service appointment at Richmond Ford Lincoln.
Make an Inquiry
Hours
Monday

7:00AM - 7:00PM

Tuesday

7:00AM - 7:00PM

Wednesday

7:00AM - 7:00PM

Thursday

7:00AM - 7:00PM

Friday

7:00AM - 7:00PM

Saturday

7:30AM - 5:00PM

Sunday

Closed