If you're looking for more cargo space and fuel efficiency with your next vehicle, there are a few crossovers on the market that can accommodate, most notably the 2018 Ford EcoSport and 2018 Honda HR-V. Both vehicles offer a considerable amount to their respective drivers, but when it's time to decide you may have some difficulty. At Richmond Ford Lincoln, we're here to lend some help to our friends and neighbors in Richmond, Mechanicsville, and Ashland, so they can decide on their next crossover!
Keep reading this Ford EcoSport vs. Honda HR-V comparison to find out which vehicle is the better pick for your next car!
Ford EcoSport vs Honda HR-V Interior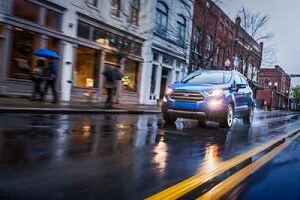 The EcoSport and HR-V each offer spacious cabins to their driver and passengers. Each vehicle is equipped to carry five total passengers. The 2018 EcoSport and 2018 HR-V also include the 60/40 split rear bench to accommodate more cargo, allowing for the area to expand and fit larger items.
The Ford EcoSport offers its drivers 39.6 inches of headroom.
The HR-V trails behind in front row headroom with 39.5 inches.
The EcoSport includes 42.9 inches of front row legroom.
The HR-V only features 41.2 inches of front legroom in its cabin.
Entertainment Features & Technology
Both crossovers include some impressive entertainment and technology features within their cabins. Each vehicle includes a display screen that's mounted into the dashboard and allows you to select your media options for the ride. While there are a few similarities, there's also some glaring differences.
The Ford EcoSport features the SYNC® system, a voice-activated display screen that lets you keep your hands on the wheel while selecting from your media options.
Both vehicles include an AM/FM radio and portable device inputs, but the EcoSport also includes a CD player with MP3-playback capabilities.
The EcoSport comes outfitted with a 6-speaker sound system while the HR-V only includes a 4-speaker sound system within its cabin.
Crossover Style & Appearance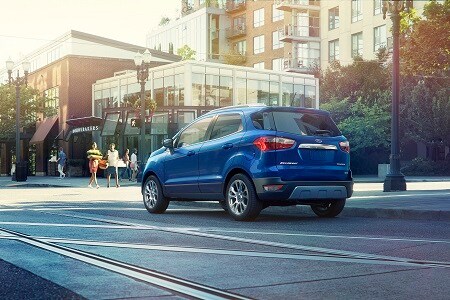 While the EcoSport offers more cabin space to its passengers, it's actually more compact than the HR-V, which gives it a major advantage when it comes to city driving, allowing the EcoSport to swiftly weave between lanes, or even fit in a tight space. From the front, both vehicles have drastically different appearances, with the EcoSport offering a refined grille with not only smooth vents, but also an underlying mesh grille, giving it a versatile appearance. The HR-V grille appears to be boxy and doesn't share the smoothness of the EcoSport.
Learn More About the 2018 Ford EcoSport vs 2018 Honda HR-V
By reading our Ford EcoSport vs. Honda HR-V comparison, you learned a great deal about what these vehicles offer, and how they differ. You're now aware that the EcoSport offers you a bit more than the HR-V, with cabin space, features, and even style. Now it's time to learn how the EcoSport performs when on the open road!
Browse our full inventory of 2018 Ford EcoSport models today at Richmond Ford Lincoln. We're happy to help our friends and neighbors in Richmond, Mechanicsville, and Ashland learn more, so they can make the right choice with their next car!