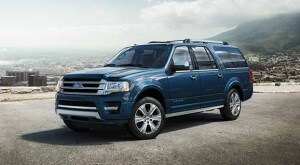 If you're in the market for a spacious SUV that can haul up to eight, the 2016 Ford Expedition and the 2016 Toyota Sequoia are likely already on your radar. Richmond Ford Lincoln is here to settle the score with a comprehensive vehicle comparison intended to help you advance your research.
How do these sizeable SUVs stack up when it comes to power, space, and versatility? Let's take a closer look.
2016 Expedition vs. 2016 Sequoia: Power and Fuel
In a supersized SUV, an engine with big power potential is essential, something that both the Ford Expedition and the Toyota Sequoia have mastered. Each engine outputs upwards of 360 horsepower, which is plenty of juice for handling massive shells while keeping an extra power punch in reserve.
One area where the Expedition's and the Sequoia's powertrains aren't so alike? Fuel economy. The 2016 Ford Expedition achieves an EPA-estimated 16/22 mpg for city and highway driving, while the 2016 Sequoia only returns 13/17 mpg. That means Expedition drivers get 4 more miles to the gallon on average.
With its 28-gallon tank full, Expeditioners have over 100 more miles of driving before they need to fuel up compared to those behind the wheel of the Toyota Sequoia.
Road Trip-Worthy Capabilities
Which model will fare better on a family road trip? We evaluated the Ford Expedition and the Toyota Sequoia in three key categories-seating space, cargo, and towing-to find out.
Seating Space: In rows one and two, both the 2016 Expedition and the Toyota Sequoia offer generous head- and legroom and supportive seating. But the Ford Expedition is still the reigning champ when it comes to available stretch-out space in its third row: Its 37.7 inches of legroom bests the Sequoia's allotted 35.3-a seemingly small difference that taller passengers will definitely be able to feel on long trips.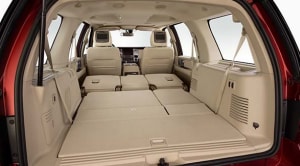 Cargo: The Ford Expedition and the Toyota Sequoia offer major cargo capacities, with an available 18 cubic feet behind the third row and over 105 cubic feet behind the first. They're each great picks for fitting everyone's respective suitcases, camping gear, and more.
Towing: We know that the Expedition and the Sequoia have bigtime power brewing under their hoods, but which model is better able to pull your largest gear to your getaway spot? When properly equipped, the 2016 Ford Expedition can tow up to 9,200 pounds-boat, camper, you name it. Hello, vacation!
Sequoia runners, on the other hand, can only mange up to 7,400 pounds, meaning you may need to leave the heavy toys at home.    
Ford Expedition vs. Toyota Sequoia
The 2016 Ford Expedition and the 2016 Toyota Sequoia are top-notch SUV models that offer ample space and smooth powertrains. But interested SUV buyers in the Richmond, Ashland, and Mechanicsville area will appreciate the Expedition's higher fuel economy and ability to haul more with ease.
Get behind the wheel of this large-and-in-charge SUV that has it all! Head out to 4600 West Broad Street in Richmond for your 20-minute test drive of the 2016 Ford Expedition today.