We've pitted our most popular Ford models against their competition. We're here to make decisions easier, and we think these vehicle comparison charts do just the trick!
A perfect vehicle means more than just having all of the features you want. Your true perfect vehicle should also embody your personality and style while delivering a stellar performance throughout Richmond, Ashland, and Mechanicsville. In other words, it should complement your lifestyle, and it's our opinion that there's a Ford our there for everyone! The first step to finding it starts with extensive research, and our team here at Richmond Ford Lincoln can get you started with our Ford vehicle comparisons below. 
Ford Comparisons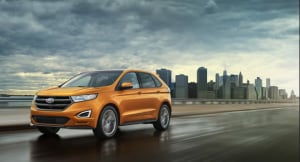 While we know that you'll love our Ford vehicles, our team at Richmond Ford Lincoln also understands that you may want to see how our models fare against the competition so you make the right decision. However, comparing vehicles isn't a simple task. There's a great deal of research involved, making the process time consuming and stressful - until now. With our Ford vehicle comparisons, we've done the research for you. We've compared the performance, technologies, styles, and other important aspects of our Ford models with the competition to give you a better idea of how they stack up against each other. So you no longer have to spend countless hours in front of your computer reading; now comparing vehicles only takes minutes. Most importantly, the Richmond Ford Lincoln vehicle comparisons provide you with a better sense of the driving experience that you can expect from our vehicles and the competition. So you'll be able to narrow down your list of prospective vehicles and find your perfect new automobile faster than ever before.
Let Richmond Ford Lincoln Help You
Richmond Ford Lincoln is dedicated to ensuring an easy and convenient car shopping experience not only in the showroom but at home as well. So if you're in the market for a new vehicle, let us help you find the ideal model that fits your lifestyle with our Ford vehicle comparisons. And after you've found your perfect new Ford, contact our showroom or visit us at 4600 West Broad Street in Richmond, VA, and schedule your test drive!