Whenever our friends in the Richmond, Ashland, and Mechanicsville area come in to see us at Richmond Ford Lincoln to find a full-size SUV, we always point them in the direction of the 2017 Ford Explorer. However, some of our friends said that they were actually torn between the Ford Explorer and the Toyota Highlander. Well, we did some digging to find out which vehicle is the better choice for you.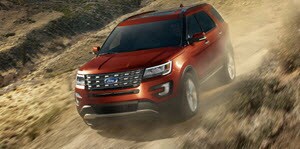 In this comparison, we're going to share our findings on the 2017 Ford Explorer and the 2017 Toyota Highlander. We'll show you how each of these SUVs differ. By reading about these vehicles, you'll learn which one seems like a better fit for you.
Ford Explorer vs. Toyota Highlander: Performance & Power
While there are a lot of factors that go into choosing the right SUV, one of the most important is engine power. Due to the size of the vehicle, and the spacious cabin, you'll want to be sure that the vehicle is capable of carrying your passengers and your cargo. However, both of these vehicles offer something different in this category.
The Ford Explorer comes standard with a 3.5L V6 engine that can deliver 290 horsepower and 255 lb-ft of torque.
The Toyota Highlander, on the other hand, is equipped with a 2.7L four-cylinder engine that only produces 185 horsepower and 184 lb-ft of torque.
Both vehicles are outfitted with a six-speed automatic transmission.
Interior Space & Comfort
Passenger space is also a huge aspect to consider since one of the main reasons our friends go for an SUV is to accommodate their growing family. Each vehicle offers a spacious cabin with three rows of seating. However, there is a noticeable difference in the offered space.
The Ford Explorer features 151.5 cubic feet of space where front passengers get 41.4 inches of head room and middle row passengers get 40.6 inches of head room.
Toyota Highlander passengers get 144.9 cubic feet of space with 40.7 inches of front head room and 39.9 inches in the middle row.
The Ford Explorer features 21 cubic feet of cargo space behind the third row which is more spacious than the 13.8 cubic feet featured in the Toyota Highlander.

SUV Safety Features
Due to the spacious cabins offered with each vehicle, it's presumed you'll have a few passengers during your treks. Ensuring the safety of those passengers is a major priority. However, each of these SUVs offer something different in terms of safety.
Each vehicle is equipped with stability and traction control systems to provide security when driving on slippery terrain.
Both SUVs are equipped with advanced airbag systems to provide crucial passenger protection. 
The Ford Explorer features MyKey®, which is a system that can help you teach your teen about safe driving by limiting their maximum speed and reducing the audio levels to help avoid driver distraction.
Taking the Next Step
At Richmond Ford Lincoln, we're glad our friends in the Richmond, Ashland, and Mechanicsville area took an interest in this comparison of the 2017 Ford Explorer vs. Toyota Highlander. By reading this, you learned that the Ford Explorer has several advantages over the Toyota Highlander. If you really want to learn more about the Ford Explorer and what it can do, you may want to schedule a test drive.
Schedule your test drive with us at Richmond Ford Lincoln.