When it comes time to choose a new car, whether it's a sedan or a hatchback, most of our friends in the Richmond, Ashland, and Mechanicsville ask us about the 2017 Ford Fiesta. More often than not, though, they ask how it compares to the equally popular 2017 Nissan Versa. To help those drivers and you figure out which vehicle is fit for you, we're going to throw both of them into the mix to see how they differ.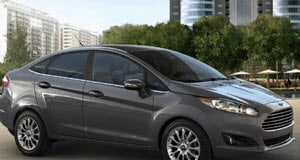 We're happy to show our friends the differences between these vehicles. We'll take a look at the performance and power, passenger space and comfort, and even the entertainment and technology features. By the time you finish reading this comparison, you'll know which vehicle is more your style.
2017 Ford Fiesta vs. 2017 Nissan Versa Performance & Power
The Ford Fiesta and the Nissan Versa are very similar in that they both features respective 1.6L four-cylinder engines. Each of these vehicles are paired with a five-speed manual transmission. However, when it comes to performance, there is a clear difference.
The 2017 Ford Focus can deliver 120 horsepower and 112 lb-ft of torque.
The 2017 Nissan Versa falls short with its abilities to produce 109 horsepower and 107 lb-ft of torque.
Both vehicles are fuel efficient, but the combined 30 mpg that the Ford Fiesta delivers has a slight advantage over the 29 mpg that the Nissan Versa is capable of.
Interior Space & Comfort
Depending on which version you choose, hatchback or sedan, each vehicle offers a cozy cabin for the respective five passengers. As for the interior, each vehicle features cloth seating appointments. Plus, each front row features manual adjustable bucket seats.
The Ford Fiesta offers more front leg room with 43.6 inches and more rear head room with 37.1 inches.
The Nissan Versa only offers 41.8 inches of front leg room and 36.6 inches of rear head room.

Entertainment & Technology
The entertainment and technology features are a major selling point with vehicles today due to the evolution of sophisticated infotainment systems. Each vehicle delivers a great deal of entertainment with their interiors. However, each vehicle offers something different in terms of convenience.
Both vehicles feature an AM/FM radio and an MP3-capable CD player.
The Ford Fiesta features a six-speaker sound system, which offers more than the four-speaker system found in the Nissan Versa.
Each vehicle features Bluetooth® technology, allowing you to stay connected while out on the road. 
The Ford Fiesta features the intuitive SYNC® system with SYNC Applink®, which is a dashboard-mounted screen that features voice recognition, allowing you to select your media or contacts without having to use your hands.
Taking the Next Step at Richmond Ford Lincoln
We hope that this comparison was helpful in showing you the differences between the Ford Fiesta and the Nissan Versa. However, if you feel like you need to learn more, then stop by and see the Ford Fiesta up closer. You can even take it out on the road to see what it can do.
Schedule your test drive at Richmond Ford Lincoln, we're just a short drive away from the Richmond, Ashland, and Mechanicsville area.