From smart technology to structural reinforcements, the safety features of the Ford Focus offer enough to keep you protected on those Richmond, Mechanicsville, and Ashland streets. Our team at Richmond Ford Lincoln wrote this review to tell you all about them.
Ford Focus Safety Features: Structural Reinforcements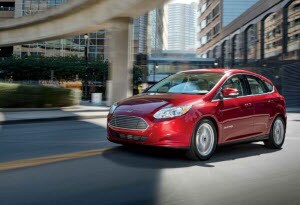 One of the keys to staying safe on the road is being surrounded by a fortified safety structure. Fortunately, the Focus comes loaded with the right amount of padding and safeguards to keep your whole family protected.
Personal Safety System™: The main purpose of this feature is to cut down on airbag-related injuries, and, in the process, strengthen the front of your cabin. This is achieved in large part by the multi-phase airbags that line the front of the Focus.
Safety Canopy® System: For added cabin lining, you'll have the Safety Canopy®. This includes first and second row side-curtain airbags-a great help for rear passengers!
Belt-Minder®: One of the simplest ways to keep yourself safe is to buckle up. Fortunately, Belt-Minder® is installed to ensure that front-sitting passengers never forget whether they're strapped in or not.
Ford Focus Handling Features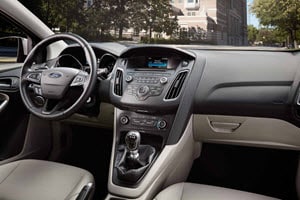 Another necessity for vehicle safety is great handling. In addition to having a finely-tuned body, the Focus also comes with a couple of different handling features.
Torque Vectoring Control: This feature is applied to your sedan's differentials. Essentially, it can supply torque to your wheels at varying degrees. This ensures that distribution is always at its most effective (your handling will be too).
AdvanceTrac® with Electronic Stability Control: Are the roads slick? Loose? No worries! With AdvanceTrac®, you should have optimal grip and optimal control, even when the roads are less than favorable.
Available Ford Focus Safety Features
While there are plenty of standard features to enjoy in your Focus, this sedan also offers some great add-ons across its many trim levels. Here are the four that will best aid in your safety:
Reverse Sensing System: With a series of sensors in the rear of the vehicle, the Focus can sense when there's something behind you.
Active park assist: This feature works hand in hand with the Reverse Sensing System. It can easily guide you in and out of parking spots.
Lane-Keeping System: All it takes is one second of distraction for someone to begin drifting out of their lane. If your Focus senses you're drifting without a turn signal, it can apply mild steering correction to help you back on course.
BLIS® with Cross-Traffic Alert: No longer will you have to worry about those blind spots. BLIS® will keep an eye out for you. It will even alert you when you're safe to change lanes.
Staying Safe in the Ford Focus
Passenger protection is a top priority for our neighbors in the Richmond, Mechanicsville, and Ashland areas-and it is for us, too. If you'd like to learn more about the Ford Focus safety features, then contact the Richmond Ford Lincoln team today!