You may have found yourself shopping for a new Ford vehicle, like the midsize Fusion sedan or the Explorer SUV, and noticed options for an EcoBoost® engine. Car shoppers in the Richmond, Mechanicsville, and Ashland areas may be unfamiliar with Ford EcoBoost® technology, and we don't want you kept in the dark any longer!
Our team at Richmond Ford Lincoln is here to tell you all you need to know about Ford EcoBoost®, so you can wisely shop for your next vehicle. Read on to learn about this innovative technology and benefits it has for you.

Ford EcoBoost® Explained
In a nutshell, Ford EcoBoost® engines use a couple different processes to deliver a more efficient and powerful performance than a traditional engine would. Those systems include:
Turbocharging
Direct Gasoline Injection
In a turbo engine like the EcoBoost®, a turbocharger recycles exhaust gases to increase power via turbine technology.
The turbine is connected to a compressor that pressurizes incoming air into the combustion chambers to produce a surge of power. This raises output per liter of gas (it's the "boost" in EcoBoost®). When exhaust gases that would otherwise go to waste cycle through the turbine, the turbocharging process begins.
Direct Gasoline Injection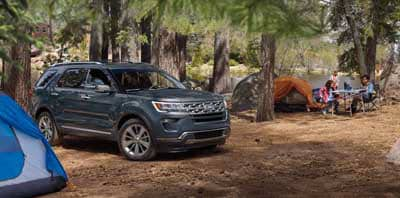 Direct fuel injection, meanwhile, sprays a fine mist of gasoline straight into the combustion chamber in a way that wastes less fuel but produces more power. Traditional fuel injection has an extra device, called the intake tract, which injects fuel. With direct injection, you bypass this step and have a simpler process as a result.
Simpler, in this case, means more efficient and powerful. Plus, there are more benefits to direct gasoline injection, which include:
Lowered heat-up times
Quieter engine
Reduced or eliminated engine vibrations
If you choose an EcoBoost® engine, you'll want to use a special direct fuel injector cleaner to keep your system running smoothly.

Should I Consider an EcoBoost® Engine?
Every driver is different, so you'll have to make this judgment based on your unique situation. Most Ford models now have trims with EcoBoost® engines, but those engines are often restricted to higher trims. To decide if this technology is right for you, you should consider the other features you'll get with EcoBoost® variants as well.
The great accomplishment of Ford EcoBoost® has been its blend of power and efficiency. Its benefits include:
Better acceleration
Strong fuel economy
This is significant because, in the past, efforts to improve acceleration generally came at the cost of fuel efficiency. If you want more power without sacrificing gas mileage, EcoBoost® technology might be worth considering as you shop for your next vehicle.
Test Out an EcoBoost® Engine at Richmond Ford Lincoln
We hope our guide helped you learn what Ford EcoBoost® is. To decide whether you want it to power your next new car, we suggest you test drive Ford cars with and without the EcoBoost® engines. Try both, and notice the acceleration difference!
If you live near Richmond, Mechanicsville, or Ashland, you can schedule a test drive of any Ford model at Richmond Ford Lincoln. Our expert team is standing by to help you learn more about our huge inventory of Ford vehicles, as well as the exciting EcoBoost® engines! 
You May Also Like: