At Richmond Ford Lincoln, we're happy when our friends in the Richmond, Mechanicsville, and Ashland area come to us with questions. Whether it's about the latest arrivals or recommended services, we're always glad to help. Lately, some of our drivers are in the beginning stages of choosing new tires for their Ford sedan. They have a few questions, but mostly they want to know how to read tire size on their Ford sedan. We're here to help you get the most out of your journey towards getting new tires for your Ford sedan.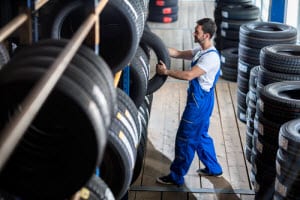 In this educational guide, we'll give you a few pointers when it comes to choosing your new tires. We'll go over the common signs that mean you need new tires, why you need to change your tires, and, of course, how to read tire size on your Ford sedan. Using this information, choosing your next tires will be a breeze.
How to Read the Tire Size on Your Ford Sedan
The tire size on your Ford sedan may look like a confusing code, but it's broken down in a simple way that tells you everything you need to know about your tires. The P at the beginning indicates that it's a passenger vehicle. The next three digits after the P is your tire width. After the width is the aspect ratio, which features two numbers after the slash.
Ex: 2017 Ford Fusion S, P215/60R16
After your aspect ratio, you'll see the letter R, which stands for radial and indicates the layers that run across your tire. Right behind the R is the wheel diameter, which tells you the actual size of the tire in inches. Be sure to check your owner's manual to make sure that you're getting the right tires for your Ford sedan.
Common Signs That Mean You Need New Tires
It's not always easy to keep track of how old your tires are. However, there are signs to tell if they're starting to wear down. You can easily do a quick inspection of your tires to see if they're on their way out and if you need to start finding replacements in the near future. Here are a few signs to look out for.
Bulges. When a tire is low on air, or deflating, it will begin to bulge. This can cause stress to the tire wall and, over time, it'll begin to crack.
Low Tread. Tread is what helps your tires grip the road, and if it's low, your vehicle's stability and traction can be affected. Use a penny and stick it in your tread upside down. If the area above Lincoln's head is visible, it means your tire tread is too low. When this happens, it's time to start looking for new tires.
Vibration. If you can feel vibrations when you're driving, it can be an indicator that your tires are out of balance, which will result in premature wear if left uncorrected.
Why You Need New Tires
Everyone can agree that tires don't last forever. However, depending on how you drive, your tires can wear a lot quicker than normal. Be sure to avoid hard braking because this can literally shave rubber off your tire. Also, be wary of any potholes in the road. This can make your tires wear unevenly, resulting in a wobbly ride and the risk of your tire bursting during your trip.
Want to Learn More About Tires?
At Richmond Ford Lincoln, we're happy to help provide a little insight to our friends in the Richmond, Mechanicsville, and Ashland area when it comes to their tires. If you have any more questions about reading tires sizes, or ways to help keep your tires lasting, you can always talk to us. If you're in the market for new tires, you can always order them from us. That way, you can rest knowing that your vehicle is getting the exact tires it needs.
Order your new tires from Richmond Ford Lincoln today!