At Richmond Ford Lincoln, we try to find ways for our friends in the Richmond, Ashland, and Mechanicsville areas get behind the wheel of their favorite Ford model. Not everyone has a new Ford in their budget, but luckily, with the Ford lease deals in Richmond, drivers can easily take their favorite model to the streets without having to hurt their finances. We at Richmond Ford Lincoln are simply happy to make that possible.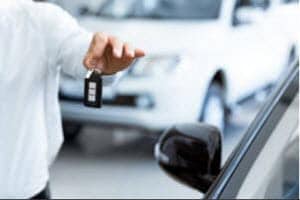 Benefits of Leasing a Ford in Richmond
When you're in need of a vehicle to help you get to work, class, or any important appointment, but you don't have it in the budget, a Ford lease deal is a great way to go. You get the benefit of having a reliable vehicle that you can use at any time, but without the hefty monthly payments. A Ford Explorer lease or a Ford Edge lease could potentially help you save money while figuring out your automotive future, if you're interested in an SUV, of course.
Ford leases allow you to pick the exact model and trim that you're interested in.
A Ford lease deal doesn't require a hefty down payment as if you were purchasing a vehicle.
You can save money with Ford lease deals because the monthly payments are much lower than the usual monthly car payment.
Most maintenance is covered by the warranty over your lease term.
You're not tied down to the vehicle; at the end of your term, you're free to walk away or even purchase the vehicle at its current cost.
Why You Should Consider Leasing a Ford
Leasing is for drivers who aren't sure of which vehicle they want to buy. Think of it as a lengthy test drive, where you have plenty of time to gauge your feelings and opinions toward the vehicle. If you need the vehicle for work, there are plenty of Ford truck leases available so you can determine if it's the right choice for your workload.
At Richmond Ford Lincoln, every new Ford model is available for a lease.
Leasing a Ford will allow you to figure out what works best for you. 
Exploring Your Finance Options
When you're on a budget, and you need a car, it isn't always the easiest experience. Instead of settling for a junker at a used car lot, why not get a recent year Ford model to drive around? At Richmond Ford Lincoln, we'll work with you to get you behind the wheel of the car you want to drive. Whether you're looking to lease a Ford SUV or truck, you can easily find one here that'll work for you. You'll be able to get around, and you can determine if you wish to purchase the vehicle when your Ford lease term is up.
At Richmond Ford Lincoln, we're happy to help our friends in the Richmond, Ashland, and Mechanicsville areas find a Ford leasing deal that works for them. Contact us today for more information. We look forward to working with you!