All our friends in the Richmond, Ashland, and Mechanicsville areas know that getting regularly scheduled maintenance for their Ford F-150 is one of the best ways to keep their truck in great shape. But did you know that keeping up with your maintenance schedule can actually help prolong the life of your vehicle? There are a variety of services that need to be performed over your F-150's lifespan, and we'll let you know the different replacements and inspections that are included with your service.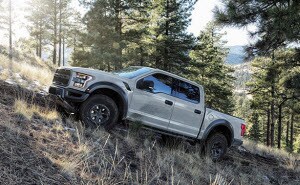 If you drive the Ford F-150, then you know it's a powerful and versatile piece of machinery, but to get the most out of your truck, you'll need the proper maintenance. In this article, we'll give you the Ford F-150's maintenance schedule. By following this schedule closely, you'll help keep your Ford truck running smoothly for many years. 
Making Sense of Your F-150 Maintenance Schedule
In this article we'll break down the service intervals that correspond to a specific mileage driven by your F-150. Each of these services should be performed every time you add that specific mileage to your odometer. Now, you're ready to learn about the different services that your Ford F-150 requires. 
Ford F-150 Maintenance by Mileage
10,000 miles: At this service interval, you'll need your oil and oil filter replaced and your tires rotated and inspected for wear. This interval will also involve a complete inspection of your cooling system, exhaust system, brake pads, rotors, drums, lines, and hoses. 
20,000 miles: Other than the previously listed services, you'll need to have your cabin air filter replaced. During this point, you'll also need to have your steering linkage, ball joints, suspension joints, and drive shafts inspected and lubricated. 
60,000 miles: During your Ford F-150's 60,000-mile service interval, you'll need to have your engine air filter replaced, on top of the other services that line up at this visit.
100,000 miles: When you reach 100,000 miles in your truck, there's a variety of new services that you'll need to add to your vehicle's maintenance. At this point, you should have your orange coolant changed and your spark plugs replaced. You may also want to have your accessory drive belt inspected for any wear. 
150,000 miles: If you've reached this interval, you've taken great care of your Ford F-150, but there's still some important services that you'll need to have performed. As for the engine, you'll need to have your transfer case fluid and your automatic transmission fluid changed. Your front axle lubricant should also be replaced during this visit. 

Getting Your Ford F-150 Serviced
You now read all about the different services that your Ford F-150 needs to perform at its best for many years and miles. If you're looking for a Ford Service Center that can help you follow your maintenance schedule, look no further than our team at Richmond Ford Lincoln. Getting the right service is right around the corner for our neighbors in the Richmond, Ashland, and Mechanicsville areas.
You May Also Like:
Ford F-150 Dashboard Light Guide
Benefits of Rotating Your Tires
Make an Inquiry
Hours
Monday

7:00AM - 7:00PM

Tuesday

7:00AM - 7:00PM

Wednesday

7:00AM - 7:00PM

Thursday

7:00AM - 7:00PM

Friday

7:00AM - 7:00PM

Saturday

7:30AM - 5:00PM

Sunday

Closed