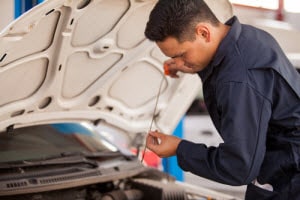 Drivers throughout the Richmond, Ashland, and Mechanicsville area know that an oil change is one of the most important and common forms of automotive maintenance. Having your oil changed regularly will be beneficial for having your engine perform at its best. However, having your oil filter changed regularly is equally important.
To educate our drivers on best practices involving regular maintenance and service, we're going to talk about the oil and oil filter, why they need to be changed, and how often you should change your oil filter. By reading this article, you'll be ahead of the curve regarding your vehicle's well-being.
How Often to Change Your Oil Filter
Staying on top of your oil and oil filter change is extremely important. However, you don't have to schedule two different appointments because they should be changed at the same time.
The Ford Motor Company recommends that you have your oil and oil filter changed every 7,500 miles if your car is from 2008 or later. If your vehicle is from 2007 or before, you should have your oil and oil filter changed every 5,000 miles. These figures are based on normal driving habits, so if you drive irregularly, you may need a more frequent change.
What Oil and Oil Filters Do
Oil is a crucial component for your vehicle. Your engine is made up of several moving parts that rub against each other while the vehicle running. When these metal parts constantly grind against each other, they create heat. Oil acts as a lubricant to help these parts function without resulting in your engine overheating. Oil also helps to disperse heat to keep these parts cool.
Oil wouldn't be as effective if not for the oil filter. These metal parts tend to get dirty, which results in the oil getting dirty. The oil filter collects the particles to keep the oil as clean as possible so it can continue lubricating the parts and preventing the engine from overheating.
Why Change Your Engine Oil Filter and Engine Oil
Changing your car's oil filter is an extremely important process to keep your engine functioning properly and prevent any serious damage. Your car's oil filter prolongs the overall life of your vehicle's oil.
Oil starts out as a honey-brown color, but after some time in your engine, it can turn black and sludgy. Dirty oil doesn't function as well as clean oil, so it's required that you change out the oil.
The oil filter serves an extremely important purpose by keeping your oil as clean as possible. However, over time, your filter becomes filled with dirt and particles that prohibit it from successfully performing its duties. You oil filter needs to be changed out so it can continue keeping your oil clean and your engine performing at its best.
Do you have any more questions about your oil filter or do you need to schedule an appointment? Contact us at Richmond Ford Lincoln. We're always happy to help drivers in the Richmond, Ashland, and Mechanicsville area keep their vehicles in great shape.
You May Also Like:
Why does My Car Smell Like Burning Oil?
Make an Inquiry
Hours
Monday

7am-6pm

Tuesday

7am-6pm

Wednesday

7am-6pm

Thursday

7am-6pm

Friday

7am-6pm

Saturday

7:30am-5pm

Sunday

Closed