When it's time to choose the next family-friendly SUV, you've certainly got a lot of options to consider. However, at Richmond Ford Lincoln, we've encountered several of our friends in the Richmond, Mechanicsville, and Ashland area who have asked us to help them choose between the Ford Explorer vs GMC Acadia. This is quite a decision, but we'll do our best to help you.
Continue reading to see how the 2018 Ford Explorer and 2018 GMC Acadia stack up.
Ford Explorer vs GMC Acadia Specs
When it comes to choosing the right full-size SUV, power is a huge factor. While both SUVs seem similar, their engine setups couldn't be more different. The Ford Explorer is equipped with a 3.5-liter V6, while the GMC Acadia features a 2.5-liter 4-cylinder under the hood.
The Ford Explorer is capable of delivering 290 horsepower and 255 lb-ft of torque with its V6 engine.
The GMC Acadia, with its 4-cylinder engine, can produce 193 horsepower and 188 lb-ft of torque.
Despite their glaring differences in performance, each of these SUVs comes outfitted with 6-speed automatic transmissions.


Differences in Passenger & Cargo Space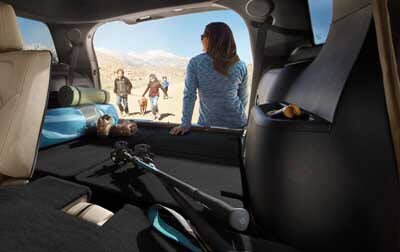 Both SUVs open with spacious cabins, offering three rows of seating for their respective seven passengers. But while each vehicle can carry the same number of passengers, the differences in offered space is undeniable with not only the passengers but the cargo space as well.
In terms of headroom, the Ford Explorer features 41.4 inches in the first row, 40.6 inches in the second row, and 37.8 inches in the third row.
The GMC Acadia offers 40.3 inches of headroom in the front row, 39.6 in the middle, and 37.2 inches in the third row.
The Ford Explorer offers 21 cubic feet of cargo space, which can expand to 81.7 cubic feet when the rear seats are folded.
The GMC Acadia comes with 12 cubic feet of space for cargo, which can increase up to 74 cubic feet when all the rear seats are folded down.
Offered Entertainment & Technology Features

The 2018 Explorer and Acadia both come standard with amenities to help the driver and passengers enjoy the trip a little more.
Each SUV comes outfitted with respective audio display screens that are accessible through touch or voice recognition. Each vehicle offers an AM/FM radio, an MP3-capable CD player, Bluetooth®, and optional SiriusXM® Satellite Radio trial subscriptions. However, these trial subscriptions vary in length, as the Ford Explorer offers 6 months, while the GMC Acadia only offers 3 months.
2018 Ford Explorer vs. 2018 GMC Acadia
At Richmond Ford Lincoln, our Ford Explorer vs GMC Acadia comparison showed you how these vehicles differ. You learned that the 2018 Ford Explorer has a few key advantages over the GMC Acadia, especially with engine performance and cabin space. You can get a sense of these advantages by dropping by our dealership to take a closer look or you can get behind the wheel and experience it yourself.
At Richmond Ford Lincoln, we're committed to helping our friends in Richmond, Mechanicsville, and Ashland make the choice that's right for them. Contact our team today to schedule your test drive. We look forward to seeing you!