When you're out seeking the right hatchback, you're probably considering multiple models like the 2017 Ford Fiesta and the Honda Fit. Both vehicles have been highly rated, but when it's time to decide between the Ford Fiesta and Honda Fit, which vehicle do you ultimately choose?
Our team at Richmond Ford Lincoln is here to help out our friends in the Richmond, Mechanicsville, and Ashland areas by taking a closer look at these two hatchbacks to see what they offer, but most importantly, how they differ.
Our Ford Fiesta vs. Honda Fit comparison will cover a variety of aspects with these two compact cars. We'll be taking a look at the entertainment and technology options, the style and appearance, and even the safety features, to give you a better idea on how these vehicles set themselves apart. Reading our comparison will help you make the right decision. 
2017 Ford Fiesta vs 2017 Honda Fit Entertainment & Technology
There are plenty of factors that go into your decision toward your next car, but entertainment features and technology should rank pretty high on the list. Both of these vehicles come equipped with some fun features, like a radio and USB/auxiliary inputs for external media. However, there are a few differences that could sway your opinion...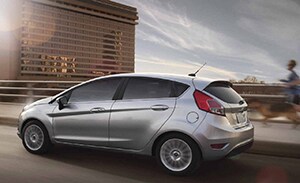 The Ford Fiesta comes equipped with a 6-speaker sound system.
The Honda Fit's sound system only has four speakers.
The SYNC® system, featured in the Ford Fiesta, has voice recognition, allowing drivers to access their media options without having to use their hands. 
Ford Fiesta vs Honda Fit Exterior
Both of these hatchbacks offer a distinctive style that can really help you differentiate between them. Each vehicle features the low-to-the-ground stance and a sleek and stylish appearance. But when these compacts are right next to each other, it's hard not to notice some of the Honda Fit's flaws. Most notably, the overall shape of the Honda Fit seems a little out of place. It somewhat resembles a minivan that has yet to hit a growth spurt. There's no mistaking that the Ford Fiesta is a hatchback; it isn't trying to be something else. 
Ford vs Honda Safety for 2017
Safety features are one of the most important factors to consider when choosing your next car. Both of these hatchbacks feature stability and traction control systems that provide extra control during slippery driving conditions to help prevent the vehicle from veering off its path. Both vehicles are outfitted with thorough airbag systems, but the Ford Fiesta includes the additional knee airbag.
The Ford Fiesta and the Honda Fit are each designed with reinforced side-door beams to provide protection during a side impact.
The Ford Fiesta features the SOS Post-Crash Alert System™, which unlocks all the doors and activates the hazard lights the moment a collision occurs so passengers can get out safely while emergency responders can see the flashing lights. 
Finding Out More About the 2017 Ford Fiesta
In our Ford Fiesta vs. Honda Fit comparison, we showed you some pretty big differences between these two hatchbacks that could affect your decision. You saw that the 2017 Ford Fiesta offers a little bit more than the Honda Fit, but you can benefit to learn more about the vehicle, like how it feels to sit inside when your hands are on the wheel and your foot is on the gas.
At Richmond Ford Lincoln, we're always thrilled to help our friends in the Richmond, Mechanicsville, and Ashland areas make the decision that's right for them. Schedule your test drive with us! 
See how the Ford Fiesta compares to the Nissan Versa in this car comparison.