At Richmond Ford Lincoln, we're always happy to be a valuable resource for our friends and neighbors in the Richmond, Ashland, and Mechanicsville area when it comes to letting them know about upcoming deals, recommended service, and ways to tell if your vehicle needs maintenance. We want our friends to keep their vehicles in the best shape so they can continue to enjoy the pleasure of getting around in a stylish and reliable ride.
But part of our duty as a Ford dealer in Richmond is keeping drivers in the know about possible issues that your vehicle could face. One of the most common and pressing issues that our drivers have to deal with is low engine oil. So we're here to give you a few tips that will help you to determine whether your vehicle is low on engine oil.
Signs of Low Engine Oil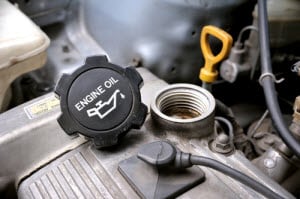 When it comes to your vehicle's health, it's always wise to keep an eye out and an ear to the ground to help you spot any issues. By being able to spot an issue in time, you can potentially prevent a major problem down the road that would cost you time and money.
Here are a few signs to look out for if your engine is running on low oil:
Strong oil odor: If you notice a strong whiff of oil when driving around, it may indicate that your oil is leaking, resulting in a low oil level. 
Dashboard light: When your oil light flickers off and on, it means that the oil is at a low level, just beneath the sensor. You can check your oil level yourself or you can give us a call. 
Engine knocking: Unusual sounds coming from the engine are never a good sign. Engine knocking is the harbinger of doom when it comes to your oil level. The reason behind the knocking is that there was so much friction under the hood, due to the lack of oil, that the rods have become loose. The rods hold your pistons in place, and without the proper lubrication, the rods will wear down. Be sure to stop the vehicle immediately and call us to prevent further damage.
Importance of Engine Oil
Everyone knows that oil is the lifeblood of your vehicle. You also know that it requires a change occasionally to help with performance. Oil helps your engine perform efficiently in a variety of ways.
Lubrication: Oil helps to keep your moving metal components lubricated so they don't create friction or freeze up. 
Dispersing heat: While oil lubricates the metal parts under the hood, it also keeps the parts cool so they don't create a lot of friction, which would result in overheating. 
Cleans the components: Oil is also responsible for collecting the dirt and debris from the moving engine components. That's why is becomes dark and sludgy after a while, and having it changed around this time is a good idea.
Are you noticing any of the symptoms of low engine oil? Contact our service team at Richmond Ford Lincoln. We're just a short drive from the Richmond, Ashland, and Mechanicsville area.
You May Also Like:
How Often to Change Your Oil Filter
Make an Inquiry
Hours
Monday

7am-6pm

Tuesday

7am-6pm

Wednesday

7am-6pm

Thursday

7am-6pm

Friday

7am-6pm

Saturday

7:30am-5pm

Sunday

Closed