When the oil level in your vehicle gets too low or the oil gets old, you might start to smell burnt engine oil in one of its many forms while behind the wheel. These smells indicate that your car needs an oil change and that it's time to schedule an appointment with your local maintenance center.
Richmond, Ashland, and Mechanicsville area drivers can count on the highly trained technicians in Richmond Ford Lincoln's service and repair center for their valuable under-the-hood expertise. Learn what they have to say about the smells that indicate your car needs an oil change in the following post.
What Does Smelling Engine Oil in Your Car Mean?
First, let's look at why smelling oil points to the need for an oil change. Oil is vital to your car for two main reasons: Its cooling properties keep your engine's high-heat interior from getting too hot for operation, and its lubricating properties coat and protect your engine's moving parts so they slide smoothly past one another without causing damage.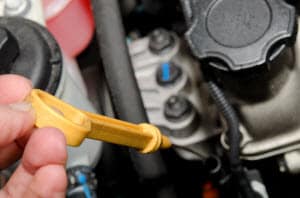 But as you add miles to your car, the once-clean motor oil that cycles through your engine again and again starts to absorb dirt and small particles, causing it to lose its cooling and protective properties. Smelling burnt oil in your car indicates the following:
Your car really needs an oil change. When dirty oil can't keep your engine cool, it may come across as a burnt fuel smell.
          
Your car may have a fuel leak. If you pick up on more of a faint oil scent, most notably when you're outside the car, make sure that you check for leaks. A bad seal or gasket may be the culprit.