When the oil level in your vehicle gets too low or the oil gets old, you might start to smell burnt engine oil in one of its many forms while behind the wheel. These smells indicate that your car needs an oil change and that it's time to schedule an appointment with your local maintenance center.
Richmond, Ashland, and Mechanicsville area drivers can count on the highly trained technicians in Richmond Ford Lincoln's service and repair center for their valuable under-the-hood expertise. Learn what they have to say about the smells that indicate your car needs an oil change in the following post.
What Does Smelling Engine Oil in Your Car Mean?
First, let's look at why smelling oil points to the need for an oil change. Oil is vital to your car for two main reasons: Its cooling properties keep your engine's high-heat interior from getting too hot for operation, and its lubricating properties coat and protect your engine's moving parts so they slide smoothly past one another without causing damage.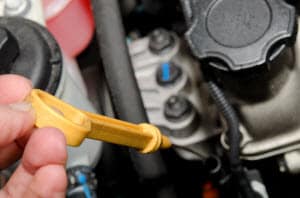 But as you add miles to your car, the once-clean motor oil that cycles through your engine again and again starts to absorb dirt and small particles, causing it to lose its cooling and protective properties. Smelling burnt oil in your car indicates the following:
Your car really needs an oil change. When dirty oil can't keep your engine cool, it may come across as a burnt fuel smell.
          
Your car may have a fuel leak. If you pick up on more of a faint oil scent, most notably when you're outside the car, make sure that you check for leaks. A bad seal or gasket may be the culprit.  
Going without Regular Oil Changes Isn't Wise
Having dirty or very little oil cycling through your engine puts your vehicle at high risk for serious consequences. These include the following:
      
Engine overheating: Without the temperature-leveling effects of fresh oil, your car's engine is in danger of getting too hot, compromising other vital engine parts and shutting down completely (leaving you stranded!).
          
Engine seize-up: If you continue to neglect changing your car's oil and the oil level becomes extremely low, there's the potential for your engine's metal parts to become so hot that they melt together and cause your engine to seize up, which would be the end of your engine. 
How to Know When It's Time for an Oil Change
      
If your vehicle has a corresponding indicator that tracks oil life, keep a close eye on it. Modern Ford brand vehicles feature an Intelligent Oil-Life Monitor, located in the instrument cluster message center.
          
Know the smells that signal your car needs an oil change.
          
Don't leave oil changes to the last minute! When you know that you have an upcoming trip that will really add on miles, evaluate your oil health before you get on the road.
          
Stick to a regular maintenance schedule to ensure optimal performance and longevity for your vehicle.
Be Good to Your Engine! Give It The Works™: An Oil Change & Car Health Boost
Bring your vehicle for service at Richmond Ford Lincoln and we'll treat it to The Works, our comprehensive top-to-bottom checkup that ensures your ride leaves with a clean bill of health. This special service package includes a synthetic blend oil change, a multi-point inspection, a tire rotation, brake inspection, and much more.
If you smell burning engine oil coming from under the hood while cruising around Richmond, Ashland, or Mechanicsville, it's time to schedule your appointment for The Works! Call Richmond Ford Lincoln at 804-254-9233 or use Richmond Ford Lincoln's convenient online service scheduler to quickly secure your appointment.
You May Also Like:
How Often to Change Your Oil Filter
Make an Inquiry
* Indicates a required field
Hours
Monday

9am-8pm

Tuesday

9am-8pm

Wednesday

9am-8pm

Thursday

9am-8pm

Friday

9am-8pm

Saturday

9am-6pm

Sunday

Closed